Pack a Nutritious Punch with Powerful Lunches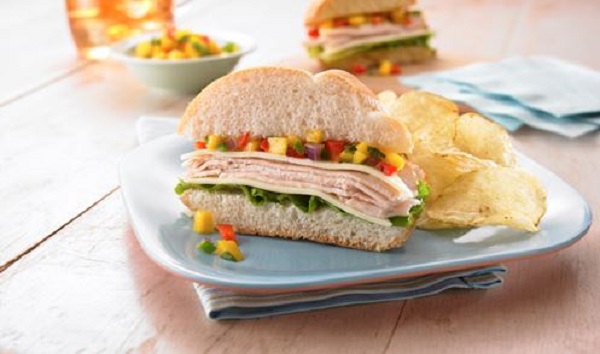 Did you know that 20 percent of adults skip lunch on any given day? [1] If you're guilty of this daily occurrence, it's probably because lunch tends to be the mealtime that is most overlooked. From being squished in the middle of the day, to working long hours and not finding the time to sit down and enjoy a meal, adults are missing out on an opportunity to pack some nutrition into their daily diet! By bringing a brown bag lunch to work, stocking your work freezer with frozen entrees for-one or eating at a restaurant, sticking with a consistent, healthy lunch plan is crucial for maintaining a well-balanced diet, in more ways than we can count.
What exactly makes up a proper, well-balanced lunch? Well, we have the answer for you— all lunches should include nutrient-dense foods with relatively few calories, which contain vitamins, minerals and healthy fats. Fill your plate with these types of foods to stay on track:
Lean proteins, such as chicken, fish, meat, tofu, beans
Whole grains
Vegetables
Fruit
Low-fat dairy, such as milk, yogurt, reduced-fat cheese
Now that you know what goes into a nutritious and beneficial lunch, it's only right to arm you with the tools and tips for staying on track!
Bringing your Brown Bag Lunch to Work
Keep it interesting: Emphasize nutrient-rich foods by mixing it up , try a sandwich at the beginning of the week, toss a salad for another day, make a batch of soup for midweek and swap out your normal sugary sweet treat with your favorite frozen fruit!
Put a twist on the average sandwich by throwing on a sweet and tasty topping for a Turkey Sandwich with Mango Salsa. The dairy aisle has a variety of cheeses and spreads to take your sandwich to the next level! 
Brighten up salad greens with plump and juicy berries, sweet cranberries and a dollop of cottage cheese for a healthful and filling

 

Blackberry Salad.
Constant convenience:  Frozen foods are the definition of quick and convenient! Take your pick from a wide-assortment of individual entrees in the freezer aisle that are designed to meet a variety of tastes and menu needs such as:

Weightwatchers Smart Ones offer morning meals, smart snacks, classic favorites, nutrient-packed creations and even dessert delights. For a smart lunch, we love the Chicken Fajitas and Cheese Pizza Minis, but with the abundance of choices, you could have a new, unique meal every day of the week.
Stouffer's frozen meals are "made for you to love" and what's not to love about individually portioned, scrumptious meals such as one of their top sellers, Stuffed Green Pepper filled with beef and rice mixture in a creamy tomato sauce
Michael Angelo's Gourmet Foods have a natural line of frozen products that deliver wholesome, nutritious ingredients without compromising taste. Stock up on their pocket calzones for your workday lunch— we recommend the Spinach & Vegetable Calzone.
Bring on the leftovers: make your weeknight dinners last throughout the week with tasty, microwaveable meals that are easily transportable from home to office.
Lunch is a Key Factor in Weight Management
Prepare a reduced-calorie lunch that is filled with enough protein and sustenance to last you through the afternoon. Alternate between appetizing refrigerated products such as cottage cheese, Greek yogurt, cheese sticks and any egg dish such as an omelet or frittata full of crisp veggies.
If you're a salad enthusiast, kick things up a notch with leafy greens, brightly-colored veggies and a lean protein, which will keep you fuller, longer. (Tip: Frozen chicken strips and fish work great for salads!)
Small studies suggest that meals in solid form keep appetite at bay, so consider well-balanced, single-serve meals from the frozen food aisle as weekly lunch options.
How will you pack your lunch to make a powerful punch? Any way you choose to make your lunchtime more enjoyable and nutritious, we hope you take inspiration from the freezer and dairy aisles next time you head to the supermarket. Happy lunchin'!
ConAgra Foods is a member of the National Frozen and Refrigerated Foods Association and part of this post originally appeared on Powerful Lunches.
About ConAgra Foods: 
ConAgra Foods, Inc. is one of North America's largest packaged food companies with branded and private branded food found in 99 percent of America's households. ConAgra Foods operates ReadySetEat.com, an interactive recipe website that provides consumers with easy dinner recipes and more. For more information, please visit us at www.conagrafoods.com.
---
[1] http://www.rippeinfoservices.com/conagra-foods-science-institute/factsheets/06AJLM11_236-237_PowerfulLunches.pdf