Our Go-to Dairy Foods to Savor Summer
Now that summer is officially here, the Easy Home Meals team wanted to share our favorite dairy foods and recipes to enjoy during the summer by the pool, at the beach and while camping!  
Julie:
Nothing says summer like a pool party! The joy/bane of my existence was moving into a house that has a pool. Don't let anyone kid you. It's a tremendous amount of work. Lazy days in the pool do bring some of that childhood joy back to summer, though. You remember…when summer seemed to last forever and you savored every moment.
I've always made it a point to pack a beach bag and cooler for the pool – just to go out to the backyard. Somehow it makes it seem like more of an event. Even if it's only a pool party for one or two, being prepared with the right snacks can turn any day into a getaway. And there are so many great poolside options that start in the dairy aisle. The obvious is the cheese sticks, pudding cups and single serve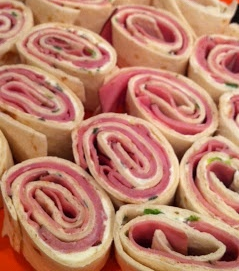 yogurts. I love the Sargento cheese sticks because they have options besides mozzarella, and the Crystal Farms Nibblers add even more flavor varieties.
But every pool party needs some picnic-esque options. One of my favorites is Ham and Cream Cheese Roll-ups. They're bite-sized, and you don't have to worry about crumbs in the pool.
Ham and Cream Cheese Roll-ups
Two 8-oz. packages cream cheese, softened
1 package Ranch dressing mix
3 green onions, finely sliced
16 thin slices deli ham
4 large flour tortillas
Combine cream cheese and Ranch mix. Spread cheese mix on tortillas just shy of the edges. Sprinkle with green onions. Top with ham. Roll tightly. Refrigerate for at least an hour. Cut each roll into 1 inch pieces.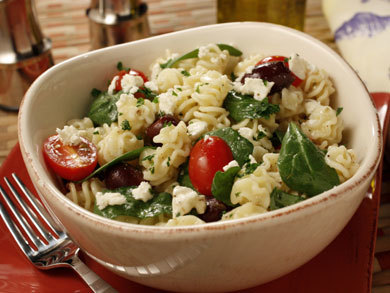 I also love making this hearty Greek Pasta Salad with lots of feta cheese courtesy of the Mr. Food Test Kitchen. And wash it all down with some refreshing orange juice in a thermos. (Okay, so maybe there's a little something extra mixed in 😉 ) Add some tunes from the iPod, a book and a floatie, and you're all set! Let's party!
Rox:
With my annual family beach vacation to Wildwood, New Jersey just a few weeks away, I'm getting super excited. Like most people, I absolutely LOVE the beach, but what I love most about our annual Wildwood vacations is our family traditions. And it wouldn't be a tradition without FOOD!
While majority of people that go on vacation also take a vacation from cooking, we are a little different. Once we get our car unloaded at our beach condo, my mom and I head to grocery store. Vacation is one week where my mom cooks us a hot breakfast every day. Throughout the year, the closest we ever get to enjoying hot breakfast food as a family is having brinner—breakfast for dinner. Although our breakfasts during vacation happen more around brunch time, it's a huge treat to be able to enjoy a meal all together before we head to the beach. Between my mom's ham and cheese omelets and her pancakes (especially when she puts bananas or chocolate chips in them 🙂 ), I can't get enough of homemade breakfast during vacation!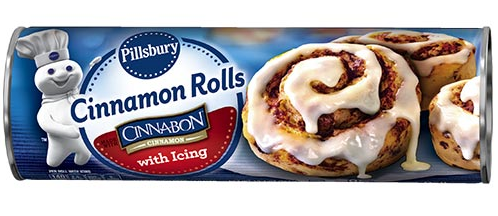 During vacation, our fridge is stocked with some adult beverages, and most importantly these dairy aisle essentials: milk, chocolate milk, orange juice, liquid coffee creamer, eggs, butter, several kinds of cheeses, Heluva Good! French Onion Dip, veggie dip, Pillsbury Cinnamon Rolls and cream cheese. For lunch, my mom packs our humongous cooler with ham and Swiss cheese sandwiches, lots of fruits and veggies (plus dip), as well as yogurts and cheese sticks to enjoy on the beach.
To carry on the tradition of when my grandparents used to vacation to Wildwood with us, I'll be making peanut butter fudge. While it won't taste nearly as amazing as my grandma's famous "white" fudge used to taste, hopefully it'll be close enough!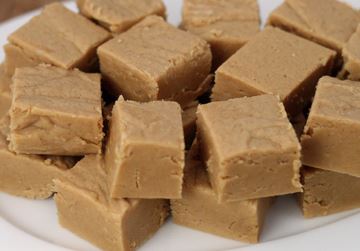 Peanut Butter Fudge
2 cups sugar
1/2 cup milk
1 tsp. vanilla
3/4 cup peanut butter 
Combine sugar and milk in a sauce pan and bring to a boil. Boil two and a half minutes. Remove from heat and add peanut butter and vanilla. Stir just until mixed well. Pour into greased pan. Cool and cut.
Natalie:
Summertime is here and boy am I ready to embrace it! One of my must-do things in the summer is go to the beach. With my boyfriend Jake recently starting a new job (no paid time off!!) and my endless task of paying off student loans, saving money is important to us. That means cutting back on a luxurious weeklong vacation in a tropical paradise for …drumroll… camping in a cabin! We're taking a long weekend near Cape May, New Jersey, so I still get my beach and we still get a mini vacation together.

I've been thinking about what we'll eat while camping, so that we're not spending money eating out and tipping at every meal. I won't lie, I can be obsessive when it comes to meal planning, so I've already thought about what we meals we can put together that'll be delicious yet affordable. Our tiny campsite has a grill, so why not make an evening of it and grill up something mouthwatering like these Sizzling Juicy Lucy Burgers? Without a stove or oven to make a side, we'll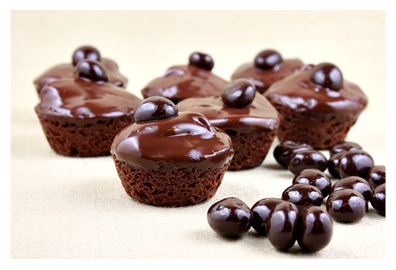 complete the meal with one (or two 😉 ) of Borden's Sour Cream Dips paired with potato or tortilla chips. I also figured it wouldn't hurt to make some sweet treats ahead of time to bring along to snack on, like these BAILEYS Mudslide Espresso Brownie Bites—can you say yum?!
It might not be your five-star restaurant meal, but for a quick dinner after a long, hot day at the beach, it sounds perfect to me! 🙂
Judy:
I just love the summer months! We spend a lot of time at our beach house in Rehobeth, Delaware and enjoy hosting many of our friends and family members for low-key, relaxing weekends. We keep our refrigerator full of thrist-quenching beverages, and  simple, fun, tasty foods – as there is always a need for easy-to-access and easy-to-prepare snacks for the impromptu get togethers at the house (that seem to happen very often!).
I stock the fridge with my favorite go-to "cool foods" – like cheeses (many flavors and many forms), yogurts, dips, hummus and cut-up veggies. We also really like many of the newer craft beers and enjoy keeping a number of those chilled as well. In the pantry I make sure we have a variety of crackers and chips, and with all of those basic elements, we are always ready for guests, expected or unexpected.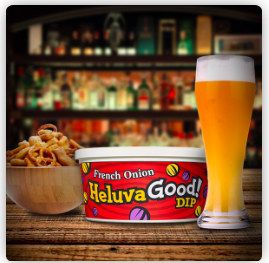 On of my favorite "finds" recently is the expanded selection of Heluva Good! dips in the dairy aisle. Hard to believe, but they have eight different flavors now ranging from the traditional French Onion Dip to Buffalo Wing, Jalapeno Cheddar and more. They are all delicious! And the "bonus" is that Heluva Good has a wonderful page on their website where they have paired each of the eight dip flavors with a suggested beer choice—"Suggestions to whet your whistle and please your palate." For example, they suggest a Wheat Ale to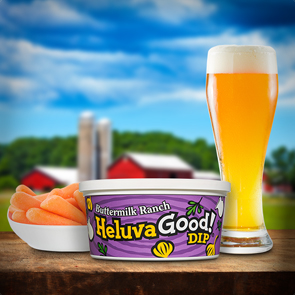 go with French Onion dip an Amber Lager to go with Bacon Horseradish,  a Pilsner to go with Buttermilk Bacon Ranch and many more.
It's quite enjoyable to plan, entertain and spend time with family and friends during the summer. It's so helpful to have foods that are fun, easy to prepare and serve (thanks to the dairy aisle!)
What are your favorite dairy foods and dairy-inspired recipes to enjoy during the summer? Let us know in the comments below!