Nestle's Commitment to Consumers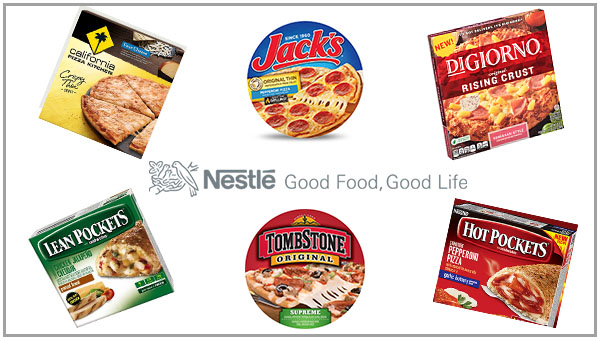 In today's fast-moving society, Americans are always changing what they eat, how they eat, when and why, constantly adjusting to the latest food and health trends. Similarly, the food industry continues to evolve, based on ever-changing food policies and consumer trends. Most recently, Nestle announced one such momentous evolution: its promise to remove all artificial flavors and cut back sodium by 10 percent in over 250 of its frozen products, including many longstanding classics like Hot Pockets and Lean Pockets, as well as DiGiorno, Tombstone, California Pizza Kitchen and Jack's[1].
This announcement stems from an ever-growing consumer demand for healthier food and increased transparency from food companies. Having already made changes to suit consumers' latest ingredient avoidance preferences, as in its new gluten-free line of California Pizza Kitchen Gluten-Free Crispy Thin Crust pizzas, Nestle is continuing down the path of refining its product line to meet consumers' sharpening health focus[2].
As reported in Acosta's recent Health & Wellness 360˚ Hot Topic Report, "Health and wellness is a mega trend that's causing a disruptive shift across consumer lifestyle markets."[3] Whether dining out at restaurants or cooking at home, people are trying to choose foods that are better for them and their families, searching for these options on menus and in grocery stores.
Supermarket Guru Phil Lempert has certainly noted the trend towards health and agrees that it is not likely to disappear. In fact, the trend poses a set of opportunities for food industry stakeholders. "As more and more consumers embrace health and healthy nutritious products, the industry give them what they want. Food companies and retailers can provide their customers with products that fit their health goals and needs, and even offer guidance, tips and nutritional information," said Lempert.
Accordingly, Nestle has promised to help educate its customers by including information about portion sizes and product ingredients on new product packaging.1 When the packaging tells the full story about the food inside, consumers benefit from awareness of ingredients, portions and quality and may be more enticed to purchase the products in question. While a wide range of foods can have a place in a healthy diet, consumers have shown a distinct desire for products that contain ingredients they believe to be healthier for them and their families, and the food industry is well-positioned to accommodate.
Kudos to our friends at Nestle, we salute you!
Nestle is a member of the National Frozen and Refrigerated Foods Association.
---
[1] http://money.cnn.com/2015/06/02/news/companies/hot-pockets-artificial-flavors-digiorno-nestle/
[2] http://www.chicagotribune.com/business/breaking/ct-nestle-artificial-flavors-0603-biz-20150602-story.html
[3] Acosta: The Why Behind the Dine 2015 PDF