Mr. Food Test Kitchen Celebrates March Frozen Food Month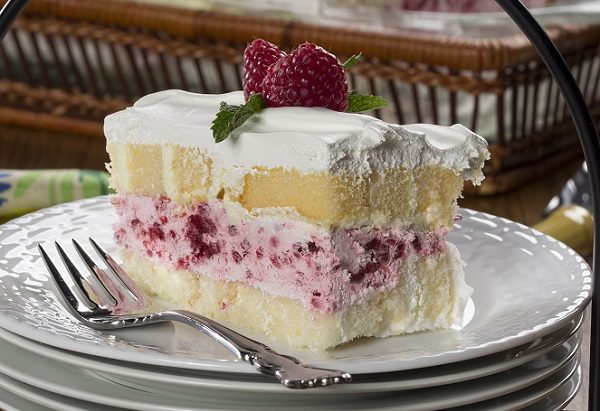 We're pleased to welcome back our friends from the Mr. Food Test Kitchen as they "Take a Fresh Look at Frozens" during March Frozen Food Month!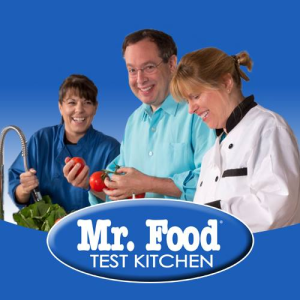 In the Mr. Food Test Kitchen, we're all about coming up with tasty, new recipes that are also quick and easy. We want everyday folks, like you and me, to be able to whip up delicious meals without all the fuss! Since March is National Frozen Food Month, which is a whole month devoted to celebrating everything in the freezer section, I thought I'd share a few of my favorite, easy and delicious recipes that are made using ingredients straight from the freezer. Talk about convenient!
You've probably already heard all about the Southern Chicken and Waffle Bites that we came up with last month. (If you haven't, give 'em a try!) Well, we got our inspiration for this recipe from those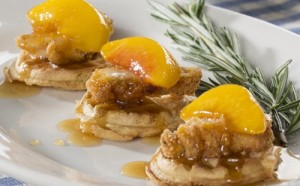 cute mini-sized waffles we found in the freezer aisle. We picked up some frozen chicken tenders, put the two together, added a couple of slices of fresh frozen peaches and topped it all off with a peachy glaze. In less than 10 minutes we had put together a dish that's perfect for brunching or snacking! Yum, yum, yum.
We go down the frozen food aisles often, 'cause we know it's full of possibilities just waiting to be discovered! Take our Spinach Potato Bake, for instance. We had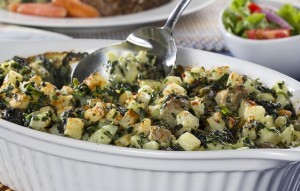 used frozen diced potatoes and frozen creamed spinach in many ways before, but we had never tried putting it all together and adding in some flavorful sausage links to make a tasty, and budget-friendly casserole. The best part of coming up with this recipe was that there was no prep work involved. Using frozen ingredients helped cut out the work, so that all we had to do was put it into a casserole dish, bake and serve it up.
If you're a dessert lover like me, then you already know about all the sweet treats you can find in the freezer case. From ice cream to frozen yogurt to cakes and pies, the freezer aisle is full of everything we love about dessert. With spring coming up I thought I'd show ya how to make the ultimate cake to share with the whole gang at your next potluck. Our recipe for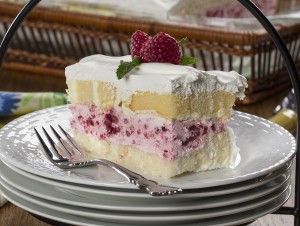 Spring Fling Layered Cake is everything you've ever wanted in a layer cake. It's got layers of lemon, coconut and raspberry all in one. It looks so pretty and tastes so good, your friends will never guess you made it with just four ingredients that you picked up from the freezer case.
I could go on all day about the possibilities that are waiting to be discovered in the freezer section, but I think I'm going to take another walk down the aisles, so I can see what else is new and waiting to be turned into the next great recipe. I hope you'll take a closer look into your freezer case and discover for yourself all the delicious ways to make mealtime quick, easy, and full of…