Mediterranean Cooking for One
There is a certain pride and sense of accomplishment that comes from making a nice meal for yourself. It's an opportunity to experiment with new ingredients and flavor combinations, or to stick to your old favorites, without having to worry about impressing anyone. You get to make exactly what you feel like eating. Cooking for one is like meditating, or writing in a journal, or exercising: it's a form of self-care that is not completely necessary, but makes life more enjoyable.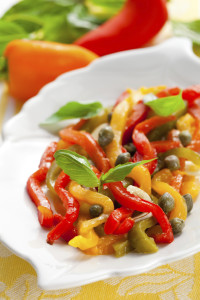 Next time you find yourself cooking for one and in need of some healthy inspiration, look no further than Oldways' collection of Mediterranean recipes. Many of their recipes serve four or more, so you can spend time cooking and doing dishes upfront, then enjoy the leftovers for a few days.
What if you're strapped for time or don't want to eat the same thing for days in a row? Luckily, you don't need a recipe to make a delicious Mediterranean meal for one. Just follow this simple framework:
1. Start at the bottom. Whole grains, vegetables, and healthy fats will be the foundation of your meal.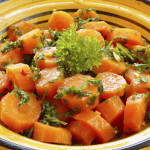 Whole grains: A slice of whole grain bread is the easiest option, but bulgur, pasta, and couscous are also good quick-cooking choices.
Vegetables: By all means use frozen vegetables for convenience. Try pulses – like beans, lentils, or chickpeas – too.
*Tip: during the last minute of cooking your whole grain (pasta, couscous, or farro, for example), add greens like spinach (fresh or frozen). Then drain the grain and the greens together and toss with olive oil. The flavors will meld, and you'll use fewer dishes.
Healthy fats: Olive oil is the primary fat used in Mediterranean cooking, but avocados, nuts, and seeds also play a big role.
*Tip: check out Olive Oil 101 for information on sautéing, baking, and frying with olive oil. 
2. Choose extras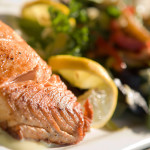 – cheese, fish, eggs, poultry – if desired. Canned fish and frozen chicken are great options in a pinch. With March being Frozen Food Month, grocery stores have lots of promotions and items on sale in the frozen aisles, so you can stock up and have ingredients on-hand at all times!
3. Determine your star. Which ingredient do you want to make shine above all other flavors? The vegetables? The fish? Focus on that ingredient's flavor and texture and give all the other ingredients a supporting role.
*Tip: trust your taste. Taste as you go along, and taste the fresh ingredients (when you can) before you cook them to get a sense of which flavors you want to enhance.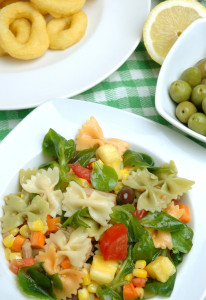 4. Season with purpose. Fresh herbs and spices can make a huge difference in your meal, as can classic flavors like garlic and lemon. Pick a few that go together and let them stand out.
*Tip: fresh herbs can be used more liberally than dried because their flavor is not as intense. Hearty herbs like rosemary and thyme add a strong flavor and aroma at the beginning of cooking, whereas delicate herbs like basil, parsley, and mint stand out best when they are added at the end. 
Cooking for yourself is the best possible time to experiment with new flavors and get creative in the kitchen. Here are a few examples, using our framework:
Whole grain toast topped with peppers and onions sautéed in olive oil, poached eggs, and crumbled feta. Seasoned with garlic and basil.
Whole wheat pasta with wilted spinach, olive oil, white beans, chopped anchovies and Parmigiano Reggiano. Seasoned with parsley, red pepper flakes, and lemon.
Farro topped with roasted root vegetables, roasted chicken breast, and avocado. Seasoned with dill and oregano.
Once your creation is complete, sit back and enjoy it with a glass of wine and fruit for dessert. Take comfort in the words of Oldways founder K. Dun Gifford: "Be bold. Make no small plans. Fear not, the sun will come up tomorrow even if you screw up."
---
This blog post was inspired by a recent Fresh Fridays, Oldways' bi-weekly Mediterranean Foods Alliance newsletter. Click here to sign up to receive the next Fresh Fridays newsletter and never miss delicious Mediterranean recipes and cooking tips again. Lara Bertoia is the Mediterranean Foods Alliance (MFA) Program Manager. The MFA is a program of Oldways, a nonprofit with a mission to inspire good health through cultural food traditions and the creator of the Mediterranean Diet Pyramid. She spends her days helping people discover Mediterranean foods and flavors.