Italian, Swedish or Cocktail—A Meatball for Every Comforting Occasion
There seems to be a holiday for every type of food or dish, and the meatball is no exception. Today is National Meatball Day and we're pretty pumped to honor this juicy goodness of meat!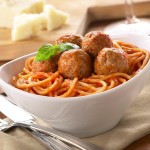 Nothing says comfort food like a big bowl of spaghetti and meatballs. Despite what you may think, it's not a traditional Italian meal, though. Yes, Italy has its version of meatballs called polpettes, but they differ from their American counterpart in multiple ways. They are primarily eaten as a meal itself (plain) or in soups[1]. They're also made with any meat, from turkey to fish, instead of primarily ground beef and are made no bigger than golf balls[2]. If you find spaghetti and meatballs in Italy, it's to satisfy the American tourist's palate.
Meatballs in general have multiple creation stories all across the world. One of the earliest such beginnings was in Rome. It was more so out of necessity that this food was created. It happened because meat was of poor quality and limited availability. To compensate, the early Roman recipe added bread soaked in wine, herbs and spices to improve flavor and create a greater yield[3].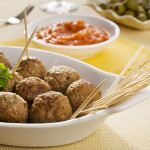 So how did this meat marvel come to be a traditional "Italian" dish in America? Like most every ethnic cuisine that traveled to this country, immigrants had to adapt their traditional recipes to the ingredients they could find and afford. About 4 million Italians immigrated to America from 1880 to 1920. These poor immigrants went from spending 75 percent of their income on food in Italy to only 25 percent of their income on food in America[4].

With more money came more food as well as more meat, but the quality of beef was not the best. The meatball became the perfect solution. With their new-found wealth, the immigrants indulged in baseball-sized meatballs made with significantly more meat and less bread[5].

And so, the American version of a dense beef meatball was born. How can you indulge in this comforting tradition on Meatball Day? Try some of these delicious varieties:
What's your favorite way to serve meatballs at home? Let us know in the comments below!
[1] http://www.smithsonianmag.com/arts-culture/is-spaghetti-and-meatballs-italian-94819690/?no-ist
[2] http://www.escoffieronline.com/a-history-of-spaghetti-and-meatballs/
[3] http://www.escoffieronline.com/a-history-of-spaghetti-and-meatballs/
[4] http://www.smithsonianmag.com/arts-culture/is-spaghetti-and-meatballs-italian-94819690/?no-ist
[5] http://www.smithsonianmag.com/arts-culture/is-spaghetti-and-meatballs-italian-94819690/?no-ist