Make your Vanilla Ice Cream Sing for National Vanilla Ice Cream Day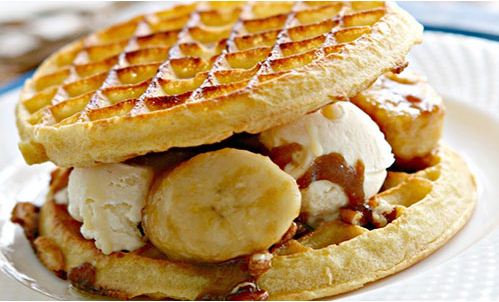 Your favorite dessert doesn't have to be so…vanilla. And with it being National Vanilla Ice Cream Day, it's the perfect time to turn your plain vanilla ice cream into a frozen concoction you can't wait to devour!
Year after year, vanilla ice cream continues to be one of the most popular ice cream flavors. What we love most about this simple, yet delicious frozen treat: the versatility! In times of inspirational doubt, your vanilla ice cream is there to help you out: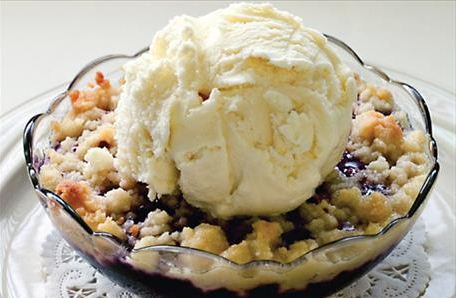 – Pairs perfectly with a variety of toppings (fruit, sprinkles, candies, sauces, syrups, etc.)
– Enjoy the enhanced deliciousness with a slice of warm cake or brownies
– Serve pie, cobbler, shortcake or fruit crisp à la mode
– Blend things up just like our refreshing Peaches 'N Cream Shake
– Create a decadent banana split or ice cream sundae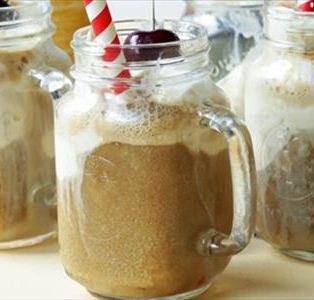 – Make homemade ice cream sandwiches using your favorite ready-to-bake cookie dough
– Pop in some scoops with your favorite soda for a fizz-tastic float
– Turn breakfast into dessert, like Waffles Banana Foster from Ingredients, Inc.
– Try your hand at making your own coffee ice cream –1 cup coffee, brewed / 2 cups vanilla ice cream, softened:
In a saucepan, bring coffee to a boil. Boil for 15 minutes to reduce to 1/4 cup; let cool.
Mix coffee with ice cream. Refreeze if necessary.
– Top it off with a homemade berry sauce – 12-oz. (1 1/2 cups) frozen berries of your choice (raspberries, strawberries, blueberries) / 1 Tbsp. cornstarch / 2 Tbsp. lemon juice / 1/3 cup sugar:
Combine berries, cornstarch, lemon juice and sugar in small saucepan and bring to a boil over medium-high heat.
Cook until berries have broken down (about 5 minutes).
Remove from heat and cool.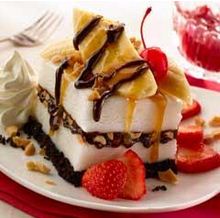 – Create your own ice cream cake or ice cream pie, like Breyer's Banana Split Ice Cream Cake
– Make dreams come true with dynamic duo pairings, like this Brownie Bowl Sundae from Mr. Food Test Kitchen
– Break down the Plain Jane stereotypes with these totally delightful Blue Bunny Ice Cream Nachos
Seriously – what can't vanilla ice cream do? The next time you find yourself in a culinary pinch and searching for a way to take your daily dessert to a day of decadence, look no farther than this versatile flavor. Whether it's slow churned, French or straight from the bean – let's all scream for vanilla ice cream!
What will you create?