Make a Sundae Bar for Hot Fudge Sundae Day!
Today, which is National Hot Fudge Sundae Day, is all about celebrating and enjoying the tastiness of this unique dessert that was invented at the very end of the 1800s and gained popularity in the beginning of the 1900s[1]. Do you know why it's spelled "sundae"? Well, there used to be "Sunday Blue Laws" that prohibited soda water from being sold on Sundays. This resulted in no ice cream sodas, which was a popular treat at the time[2]. People began making what is now known as a sundae instead! It is also noted that the spelling was changed from "Sunday" so that the ice cream treat would no longer be associated with only eating them on Sundays, and to not commercialize the word "Sunday" which was thought to be as sacred[1].
Whether you like banana splits or the traditional hot fudge sundae, there are endless options for creating a totally customized sundae. Why not create an ice cream sundae bar filled with toppings, your favorite syrups and a variety of ice cream flavors. Get inspiration from Blue Bunny's DIY Sundae Bar!
Get out your cutest bowls and dishes to display toppings and syrups and start with the best part – the ice cream: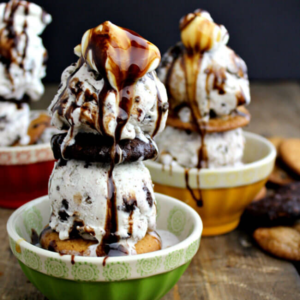 Vanilla
Chocolate
Strawberry
Cookies & cream
Mint chocolate chip
Then add toppings like:
Whipped cream topping
Mini chocolate chips
Bits of cut up fruit (strawberries, peaches, blueberries, kiwi, etc.)
Rainbow/sugar/chocolate sprinkles
Nuts
Complete your unique sundae with syrups such as:
Chocolate syrup/hot fudge
Caramel syrup
Strawberry syrup
Pineapple topping
If you'd rather go by the book, try these other creatively-crafted sundae recipes:
Or give these thinking-outside-the-box sundae recipes a whirl:
We bet you can't wait to create your own sundae bar – which of your favorite toppings would you serve? Share with us in the comments below!
[1] http://www.foodtimeline.org/foodicecream.html#sundaes
[2] https://antiquitynow.org/2013/07/25/hot-fudge-sundae-a-dessert-5000-years-in-the-making/