Katie Workman's Greek Yogurt Toppings Bar for Thanksgiving—Easy as PIE!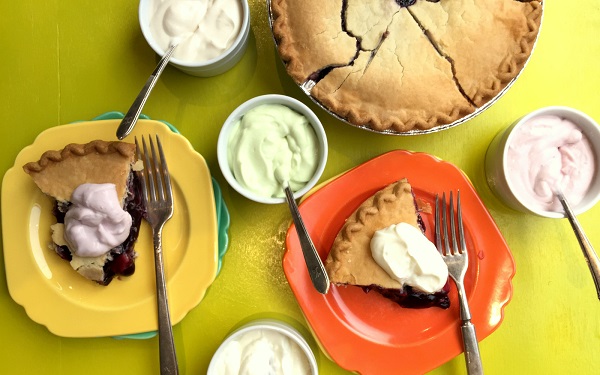 In celebration of Thanksgiving, our Cool Food Panelist, Katie Workman wanted to share a last-minute idea to take Thanksgiving pie to a whole new level!

We all know that Thanksgiving is just another way of saying "pie"…. don't we? I love the whole dinner; I love the turkey, and I certainly love the mashed potatoes, the butternut squash, the stuffing….but I am definitely going to stop eating before there's any danger of having no room for pie.
In fact, amongst my Thanksgiving duties, I am in charge of the pies every year. This is not an accident. And, while there are the classics that have to be part of the spread every year – pumpkin and apple, always – most years I shake things up by offering one more newcomer, a surprise pie attendee.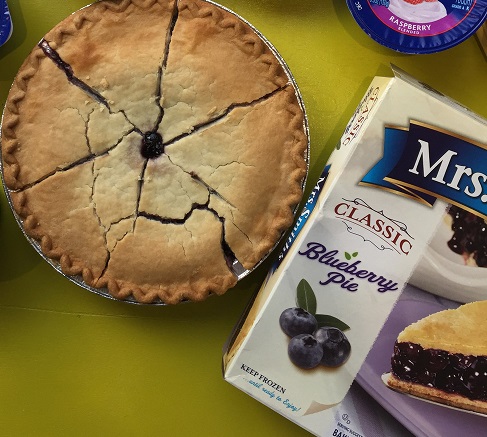 This year, it's going to be blueberry. There are a few reasons for this. One, I forgot to make or eat any blueberry pie this summer, and I don't know how that happened and I'm sad about it.  Another, is that I am always looking to add some color to the Thanksgiving buffet, and blueberry pie is certainly that! Finally, I don't have time to make all of the pies from scratch this year, so I am turning to a frozen pie that I know won't be out of place next to the homemade ones, because it's just that good.
Mrs. Smith's pies started in Pottstown, PA in the early 1920's. A young Robert Smith began selling his mother Amanda Smith's pies at the Pottstown YMCA. Mrs. Smith had a reputation for being a great pie baker, so it wasn't long before this little enterprise became a bona fide company. Mrs. Smith was able to leave her job as a maid, to work with her son, open a store, and fast forward almost 100 years (wow, pause on that; that's so impressive), now Mrs. Smith's pies are sold in markets across the country and the world.
Here's another amazing piece of their story (and the reason there is a blue ribbon on the box):
"In the 1980's in Iowa, a woman was well known for her entries into the pie contests at the Iowa State Fair. One year, too busy to make pies, she chose not to enter the contest. She did, however, bake a Mrs. Smith's Original Flaky Crust Peach Pie for the fair's bake sale. When the judges of the pie contest inquired about the pie from this well-known entrant, someone retrieved the unsold peach pie and entered it for her, not knowing it was in fact a Mrs. Smith's pie. The well-known baker was later astonished to hear over the loudspeaker that her peach pie had won the blue ribbon!"
Is that crazy, or what?
Mrs. Smith's recently did a survey. Did you know that according to this recent survey the large majority of millennials said that pie is their favorite part of Thanksgiving, or "Friendsgiving" as it's being called in some hip parts of the country, but only 35 percent said that they would ever bake a pie from scratch! Guys, this pie's for you!
Blueberry Pie with a Creamy Greek Yogurt Toppings Bar
Serves 6 to 8
And, since we are all looking for hacks to make our Thanksgivings and other gatherings more special and more personalized (without a lot of extra work for ourselves!), give this Dannon OIKOS Greek
Vanilla Yogurt Bar a try. Just purchase a bunch of their thick, creamy yogurts in flavors that compliment the pie you are serving, and let everyone top their own slice with a dollop or two of their favorite flavors. For the Blueberry Pie I chose Key Lime, Raspberry, regular Vanilla, and Banana Crème as options.  If you were serving an Apple Pie, for instance, you might try Butterscotch, Apple Pie, Vanilla, and Café Latte. Just have fun with it— there are no wrong answers! And, it's always nice to add an interactive element to the buffet.
To create the pie + yogurt bar, just prepare the pie according to package directions. While the pie is cooling, pick out your favorite yogurt flavors to mix and match, some spoons for serving, and create your yogurt topping bar. You might go for more than one flavor of pie, too!
You can a
lso customize your own toppings, using plain yogurt or vanilla yogurt as the base.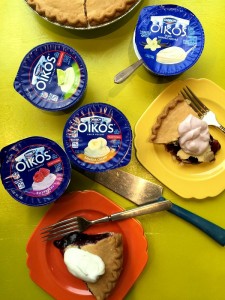 Some add-in suggestions:
Mix 1 cup of Dannon OIKOS Greek Plain Yogurt with 1 to 2 tablespoon honey.
Mix 1 cup of Dannon OIKOS Greek Vanilla Yogurt with ½ teaspoon ground cinnamon.
Mix 1 cup of Dannon OIKOS Greek Vanilla Yogurt with 1 teaspoon fresh lemon juice and ½ teaspoon lemon zest.
Mix 1 cup of Dannon OIKOS Greek Vanilla Yogurt with 2 teaspoons cocoa powder.
Serve as many of the toppings as you wish alongside the pie, and let everyone have at it! You can also put out some Cool Whip topping as well.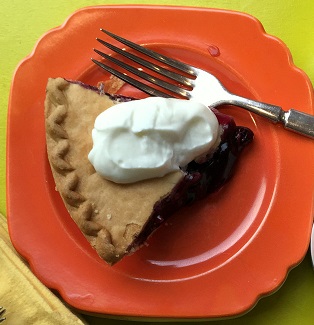 Have a wonderful Thanksgiving!