Katie Workman – On June Dairy Month's Side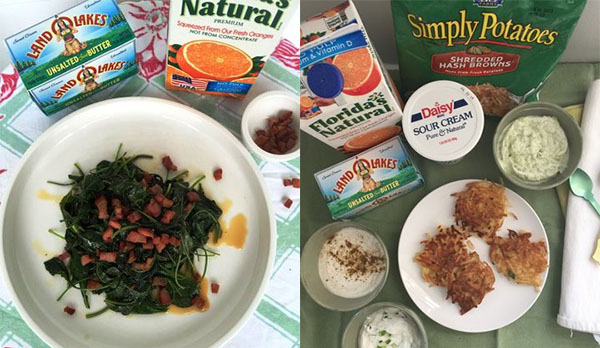 We're thrilled to welcome back our Cool Food Panelist, Katie Workman as she celebrates June Dairy Month with some oh so scrumptious recipes starring dairy products!
It's June! It's June! It's beyond doubt that the horrible winter we've all just endured (and if your winter wasn't horrible weather-wise, please keep it to yourself) is over and done, and under the bridge.
So now we turn our attention to emerging from our houses, blinking a little in the foreign sunlight, and thinking about ways to convene with friends and family to celebrate this momentous occasion. So we plan some get-togethers, and maybe we know what we want to make as a main dish (if it's outside, and there's a grill, hoorah, burgers and chicken, kebabs and steaks). But then…for some of us, the side dish conundrum looms. What to make to go on the side?
Lucky for all of us, it's June Dairy Month – the perfect culinary inspiration. For some of us, dairy can round out much that is wonderful about food. Silkiness, creaminess, richness….if those words are being used about a dish, you may well have something in the dairy family to thank. Remember, a little dairy goes a long way – even just a bit can elevate taste and texture exponentially. A splash of cream into a sauce or a soup, for example, can be the perfect finishing touch.
Here are a couple of possible candidates for your summer get-together, inspired by some fabulous dairy products. And by the way, you're not going to want to forget about these options come cooler weather.
Check out the Kale with Orange and Pancetta…
Sautéing the kale in just a bit of butter provides richness and great flavor, and the reduced orange juice and crispy pancetta don't hurt either!
If you're looking to create a side dish that is also the talk of the meal, you might want to put together a Mini Potato Pancake Bar with 3 Kinds of Sour Cream Toppings…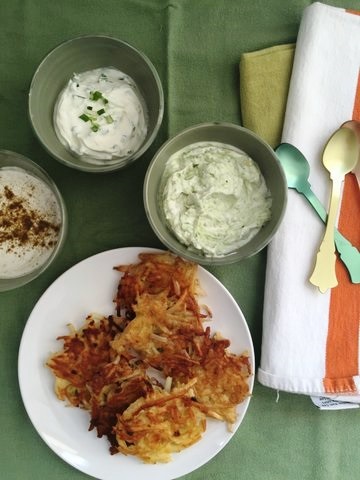 Pre-shredded (and seasoned) hash browns take an easy turn into potato pancakes with loads of flavor, and when they are sautéed and then topped with just a dollop of one of three (three!) flavored sour cream toppings, perhaps you won't feel so bad when no one remembers what you served for a main course.

Sour cream takes to all kinds of additions, so your options for spiking sour cream to work with whatever you are serving are pretty limitless. A little dollop of sour cream, seasoned or au natural, can neatly finish off anything from a soup to a taco to an appetizer.
So, dairy products, I tip my hat to you and your wide variety of uses. You're the cat's pajamas. Happy Dairy Month to all of you, and enjoy your summer get-togethers!
Katie Workman is author of The Mom 100 Cookbook, Dinner Solved (August 2015) and creator of The Mom 100 blog. She's all about cooking for family and friends and is so excited to be working with the National Frozen and Refrigerated Foods Association (NFRA). Katie also sits on the board of City Harvest, New York's leading food rescue nonprofit, and for the past 24 years has been an active supporter of Share Our Strength, a hunger relief organization dedicated to eradicating childhood hunger.