Just in Time for the Holidays: Elevate your Cooking & Culinary Outlook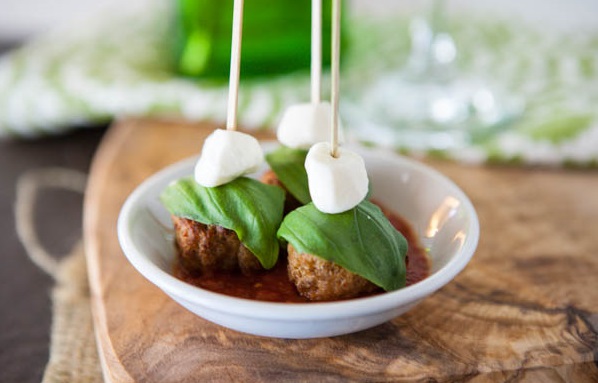 The holidays will be here before we know it, which means the cooking and baking process can be overwhelming or exhilarating. We're here to help eliminate the stress and elevate the joys that come with crafting delicious and comforting meals this time of year. From our recent survey, almost half (41%) of respondents admitted that they are an "okay" with cooking as 38 percent say their biggest barrier is the time involved, from preparation to clean-up[1]. Embrace your culinary weaknesses and fears and turn them into masterpieces this holiday season!
Eliminate cooking and clean-up full of chaos and anxiety. Instead, look forward to the occasion and learn from these simple tips for holiday get-togethers[2]:

Share the work: create a fool-proof menu and assign dishes for family and friends to bring.
Think bigger: make more than what is needed so you can have leftovers for later that week.
Supply snacks: hungry guests are never a good thing, so offer appetizers such as dips, cheese & crackers, buffalo wings, meatballs or pigs-in-a-blanket with help from the frozen food and dairy aisles!
Learn limitations: prepare for food allergies or limitations so all guests can enjoy a well-balanced meal such as a gluten-free entrée option or vegetarian fare.
Cook ahead: choose dishes that can be assembled days before and popped in the oven day-of.
If you're still unsure about your cooking, take the advice of these chefs and culinary experts[3]:
"Take the time to actually read recipes through before you begin."  -John Besh
Recipes are only a guideline, not the Bible. Feel comfortable replacing ingredients with similar ingredients that you like. If you like oregano but not thyme, use oregano." -Alex Seidel
"Invest in a bottle of high-quality olive oil. Just a small drizzle can really bring out the flavor of pizza, mozzarella, pasta, fish and meat." -Nancy Silverton
"Always use sharp knives. Not only is it safer but it will make your work much more efficient." -April Bloomfield
"Store spices in a cool, dark place, not above your stove. Humidity, light and heat will cause herbs and spices to lose their flavor." -Rick Tramonto
"Cook pasta 1 minute less than the package instructions and cook it the rest of the way in the pan with sauce." -Mario Batali

"Season all of your food from start to finish. Seasoning in stages brings the most out of your ingredients and gives you the most flavor." -Jose Garces

"Taste what you make before you serve it. I'm amazed that people will follow a recipe but not taste the dish to see if it needs more salt, pepper or spices." -Brad Farmerie
"Clean as you go. (Dorky, but I swear it really helps.)" -Rick Bayless
"Don't be too hard on yourself — mistakes make some of the best recipes! Keep it simple." -Sunny Anderson
Once you've mastered these tips and shortcuts, try your hand at some entertaining must-haves with help from frozen and refrigerated ingredients.
For an easy hors d'oeuvre to pair with cocktails, try Caprese Meatballs using frozen meatballs that pair a classic party dish with a bit of flair from the mozzarella and basil.
For an appetizer and perfect accompaniment to crusty bread, serve this Warm and Creamy Bacon Dip with cream cheese and cheddar cheese.
Can't decide between serving soup or salad before the main course? Smoked Turkey and Lentil Vegetable Soup

 couldn't be easier to make as it uses convenient, pre-chopped and ready to go frozen spinach.

Step outside the box and impress your guests with a scrumptious Flank Steak with Potatoes, Spicy Greens, and Herbed Horseradish!

Shave down the time spent in the kitchen by paring the flank steak with refrigerated mashed potatoes instead—just heat and top with horseradish!

No time for baking dessert? Never fail with

Mrs. Smith's Original Flaky Crust Apple Pie

that goes straight from the freezer to the table in less than an hour.

 

Put a twist on the ideal accompaniment vanilla ice cream by swirling in cinnamon and nuts for a flavorful crunch!
What is your culinary game plan for the upcoming holidays? Will you try and enhance your cooking abilities and try a new recipe? Will you throw a potluck so you have less dishes to prepare? Will you learn a new cooking technique and impress your guests? Let us know in the comments below!
---
[1]
The survey was conducted online with a random sample of 1007 men and women, 18+ — all members of the Impulse Research proprietary online panel. The Impulse Research proprietary online panel has been carefully selected to closely match US population demographics and the respondents are representative of American men and women 18+. Research was conducted in August 2014. The overall sampling error rate for this survey is +/-3% at the 95% rate of confidence
[2]
http://www.cookinglight.com/entertaining/party-ideas/easy-tips-for-holiday-get-togethers
[3]
http://www.foodnetwork.com/chefs/articles/100-greatest-cooking-tips-of-all-time.html