Ice Cream & Novelties Favorites Receive Product HITS from Supermarket Guru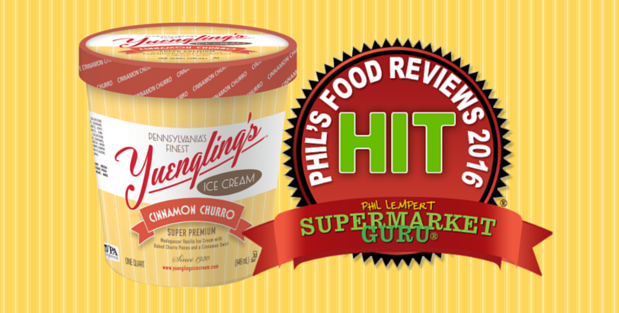 July National Ice Cream Month proved to be a HIT with Supermarket Guru Phil Lempert. From scoop-able ice cream to popsicles, the Guru found these ice cream & novelties products to be a must-have for summer and year-round. One of these ice cream products even took the title of PICK OF THE WEEK!
Graeter's Ice Cream Cheese Crown is a HIT!
Their French pot handcrafted continues to produce among the smoothest, creamiest and most flavorful ice creams out there. This one has eggs, pastry pieces, icing flakes and cheese culture. It's light tasting and frankly delicious.
Squeaky Pops Real Fruit Pops Strawberry Lemonade is a HIT!
These are refreshing, just 50 calories, no fat, no dairy, no protein with 11 grams of sugars and doesn't taste too sweet.
Jack Nicklaus Ice Cream Black Cherry is a HIT!
This is cherry ice cream with big pieces of cherries and not just those little bits.
Weight Watchers® Ice Cream Bars Mint in Dark Chocolate Flavored Coating
The ice cream and the chocolate coating tastes great and one bar is just 60 calories, 2.5 grams of fat, and 7 grams of sugars.
Bomb Pop® Frozen Dairy Confection Chocolate Fudge & Banana Fudge is a HIT!
One bar is just 60 calories, less than one gram of fat, 9 grams of sugars and 2 grams of protein and it's just about 30 cents each.
Blue Bunny® Cherry Pickin' Chocolate™ Cherry Ice Cream is a HIT!
This creamy ice cream is loaded with dark chocolaty chunks and cherry pieces.
San Bernardo Ice Cream Tropical Escapes Cactus Pearfection is a HIT!
This ice cream is fantastic. Don't let the bright pink color fool you, it has no artificial colors or flavors, they use beet juice to color and they actually use prickly pear puree.
Yuengling's Ice Cream Cinnamon Churro is MY PICK OF THE WEEK for July 11th through July 17th.
One spoonful and you'll understand why this ice cream has been around almost 100 years!
National Ice Cream Month may be over, but it's never too late to stop by the grocery store and check out these scrumptious ice cream & novelties for yourself, and let us know what you think!