How to Throw a "Friendsgiving" Potluck for Thanksgiving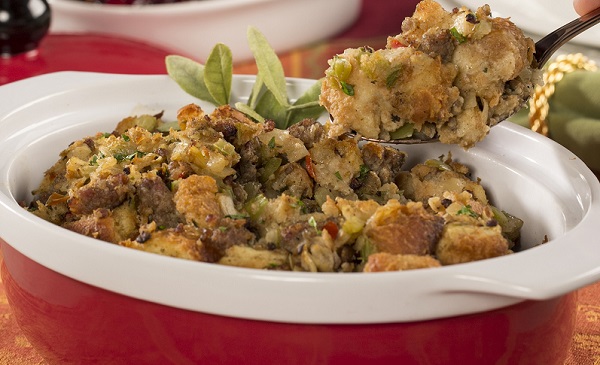 Thanksgiving is not too far away, and that means it's time to start menu prep and nailing down your guest lists. This holiday season, we're leaning more towards a collaborative feast – one that brings together your friends, your friends-of-friends or even your colleagues to share the joys of the season and, of course, some great food. What we like to call a "Friendsgiving" is a really special occasion, made even more so when it's done potluck-style. Everyone brings their specialty dish or favorite beverage and basks in the holiday glory with the best meal of the year.
But just so that you're amply prepared, we also have sample menu items that will make everyone "satisfyingly stuffed" this Thanksgiving. This sample menu of sides and desserts (best dishes to bring along to potlucks) provides traditional Thanksgiving fare, but sprinkles in a few variations for good measure. We also threw in a couple appetizers and beverage ideas to round out the menu. We're strong believers each table should include the classic items, but there's definitely room for creativity!
APPETIZERS

SIDES
DESSERTS

BEVERAGES

To get you even more in the spirit of "Friendsgiving," we've outlined some much needed tips for the hosts of the shindig, as well as the guests. Check them out below!
Host tips[1]:
Delegate: A huge perk of a potluck is that you don't have to be stuck making the entire meal. Pick the part of the meal that you'd like to make, and pass along the others to attendees.
Cover the basics: Ensure the Thanksgiving basics are covered (we're talking mashed potatoes, cranberries and pumpkin pie). That way, all will have the freedom to contribute their special, creative concoction to the occasion.
Headcount: Try and get the most realistic headcount in advance, so the size of the turkey can be confirmed and you aren't left with endless leftovers. But even if you are, you can send everyone home with goodie bags!
Creativity and flexibility: Get creative with seating, and be flexible on how the food is served. Depending on the location and number of guests, things may get quite tight.
Be a kitchen timer: Think through all of the meal components and how long each has to cook, and remember to check if any can be served room temperature. Then time things accordingly.
Guest tips[1]:
Talk it out: Raise your hand if you want to bring your personal specialty, and allow the host to meal plan, making sure no one else brings the same dish.
Think big: Scale recipes accordingly, but always factor in a few more people—you never know who might show up!
Make it a moveable feast: The entire essence of a potluck is that everyone brings a dish, so the food must be portable and easily transported.
Don't be an early bird or a late one: The early ones stress out the host, while the late ones might lose out on first round of food.
If you can't live without it, make it: Family tradition- check! Vegetarian or vegan- check! If you have a traditional item you always like to eat or have dietary restrictions, make sure to assign yourself that dish to bring along.
With all this in mind, you will surely be the best guest or host around. Happy Friendsgiving!
---
[1] http://www.epicurious.com/archive/holidays/thanksgiving/potluck