How to Put Together a Dim Sum / Chinese Food Party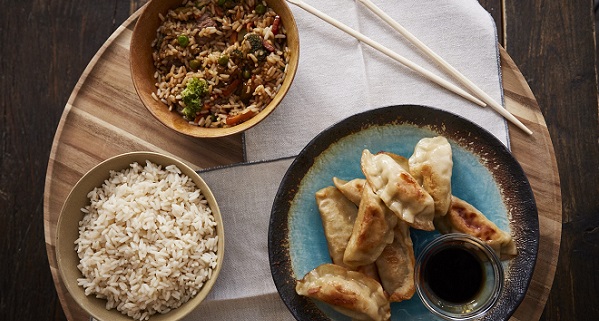 When many of us think about Chinese food, the words "take-out" or "delivery" aren't far behind.  But heading out in the cold to go pick-up from a restaurant or waiting around for food to be delivered doesn't have to be part of the equation. The take-out can be directly from your freezer.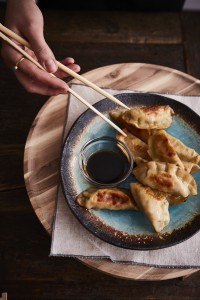 This is such a great way to think about entertaining.  A veritable buffet of options can all be assembled in about 20 minutes.  The freezer aisle is packed with different Asian cuisine brands and dishes to choose from.  For this dinner I chose Orange Chicken and Chicken Pot Stickers from InnovAsian Cuisine (the pot stickers come with their own spicy dipping sauce!) as well as Chicken Fried Rice and Beef and Broccoli Rice from Tai Pei (five minutes in the microwave and these babies are ready to go) 
and a Sautéed Beef and Broccoli from Kahiki, which cooks up quickly on the stove top.   Convenient?  Sure, but also a lot of fun.  It's like having a Chinese restaurant in your freezer!
Make some plain white rice if you are in the mood, and if you have Asian-style bowls to put out, all the better.  I used a couple of layered, serving platters to make the presentation more fun, and set out some Zen-inspired ceramic bowls for everyone to help themselves.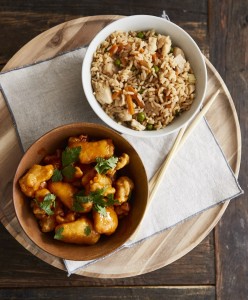 Add some colorful napkins, and it will be all ready to go.  My family and friends were pretty excited by all the choices, and next time I do a Dim Sum-inspired party I am going to try a whole new slew of items.
You might serve up some plum wine or sake to serve along with the food, to keep the theme going.  You can also pick-up fortune cookies at many supermarkets or Asian specialty stores.  And don't forget the chopsticks 🙂
When take-out becomes take-in, that's a great thing!