Holiday Entertaining with Ease
We're ecstatic to welcome back our culinary expert, celebrity Chef Aida Mollenkamp to share some of her holiday entertaining shortcuts, tips and delectable recipes! Let the drooling begin…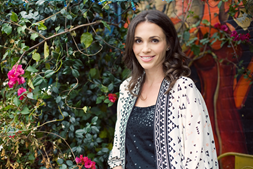 Thanksgiving is near, but the holiday season is just getting into full swing, meaning endless holiday parties and lots of opportunities to entertain! I'm all for hosting an intimate gathering or attending an all-out bash, but I'm not for stressed-out moments in the kitchen or intense cooking prep. When it comes to holiday season cooking, my mantra is small but mighty: have an arsenal of simple, small bites (appetizers, hors d'oeurves, snacks) so you have variety without too much extra effort.
Pulling together a stylish and great-tasting party menu is definitely doable with minimal time, effort and money—just keep in mind these few things. First, plan ahead and create a menu that's low-stress and able to be prepared ahead of time. Also, be sure to look for ways to cook smarter not harder: use ingredients from the frozen and dairy aisles, as these products are already prepped for you, meaning it's a shortcut sans compromise. If you keep these ingredients on hand, you'll be ready to cook at a moment's notice. A few items I can't live without for holiday parties—refrigerated pie crust/dough, cheese of all varieties and frozen produce!
Here are some of my all-time favorite, bite-size and small meals to put on your holiday menu:
Keep the ingredients for these four recipes on hand and you'll be covered for anything from a quick breakfast or mid-cookie baking snack to a show-stopping dessert fit for any holiday occasion.
Watch the clip for more holiday mealtime hacks:
Fore more recipe inspiration and tips to help you master the holidays, be sure to check out EasyHomeMeals.com.
Aida Mollenkamp is a chef, author, traveler, and native Californian. She studied at the Cornell Hotel School and Le Cordon Bleu Paris before joining CHOW.com where she worked behind the scenes as Food Editor. Eventually, she moved to television where she hosted the Food Network show, Ask Aida, and later FoodCrafters on the Cooking Channel.
With her work, she encourages her audience to taste the world and shares her inspirations and creations on her site, Pairs Well with Food. Aida's cookbook, Keys to the Kitchen, is a go-to for home cooks who want to become more adventurous. She hosts the upcoming TasteMade web series, Off Menu, and is the founder of the new online food-travel destination, Salt & Wind.