Here's the Scoop…Today is National Ice Cream Day!
Calling all ice cream lovers—it's National Ice Cream Day! All thanks to former President Ronald Reagan, who not only designated the entire month of July as National Ice Cream Month in 1984, but also declared the third Sunday of the month as Ice Cream Day[1]. 
Ice cream's origins are known to reach back as far as the second century B.C. Alexander the Great enjoyed snow and ice flavored with honey and nectar, while King Solomon was fond of iced drinks during harvesting. During the Roman Empire, Nero Claudius Caesar often sent runners into the mountains for snow, which he enjoyed flavored with fruits and juices[2].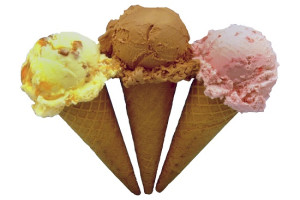 As far as its American roots, ice cream was first mentioned in a letter written in 1744. This delectable frozen treat was popular with numerous presidents decades before Reagan. In fact, records show President George Washington spent approximately $200 for ice cream during the summer of 1790. Until 1800, ice cream remained a rare and exotic dessert exclusive for the rich. In 1851, the ice cream industry came to life thanks to a Baltimore milk dealer named Jacob Fussell[2].
Vanilla, chocolate and strawberry ice cream flavors were primarily the only flavors enjoyed until 1929 when Rocky Road became widely available. While there are tons and tons of ice cream flavors and new flavors being invented every year, vanilla continues to be the most popular flavor in the U.S. Today, eighty seven percent of Americans have ice cream in their freezer at any given time. In fact,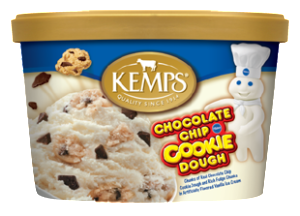 Americans enjoy an average number of 48 ice cream pints in a year! Surprisingly, New Zealand consumes the most ice cream in the world (per capita, gallons per year), with the U.S., Australia, Finland and Sweden making the top five[3].
But, we wouldn't have ice cream without cows! One cow typically produces enough milk to make two gallons of ice cream per day—that's a whopping 730 gallons per year! It takes three gallons of milk to make one gallon of ice cream[3]. In fact, about 10.3 percent of all the milk produced by U.S. dairy farmers is used to produce ice cream, contributing significantly to the economic well-being of the nation's dairy industry[1].
Now that you know the inside scoop on ice cream, here's some of our favorite flavors, recipes and ideas: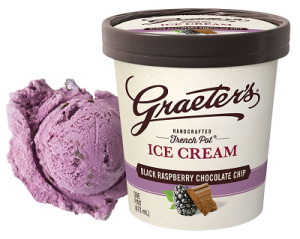 We've probably mentioned this before, but Graeter's Handcrafted Black Raspberry Chocolate Chip Ice Cream continues to rock our world with their rich chocolate chunks.
If you love cookie dough filled ice cream, then Kemps' Pillsbury Chocolate Chip Cookie Dough Ice Cream is the treat for you!
Blue Bunny's exclusive Bunny Tracks Ice Cream is one of their signature flavors that wins everybody over with their cute and tasty peanut butter-filled chocolate bunnies!
If you're throwing a party, turn your favorite ice cream flavors into elegant and decadent Ice Cream Truffles!
If you love s'mores and you have a container of vanilla ice cream in your freezer, then this S'mores Ice Cream Pie is surely calling your name!
Make your own ice cream sandwiches using ready-to-bake cookie dough and vanilla ice cream, like these Chocolate Chip Cookie Ice Cream Sandwiches.

Get creative by using other kinds of cookie dough like sugar or peanut butter, your favorite ice cream flavors and toppings such as chocolate chips or sprinkles.

We are slightly obsessed with waffles and ice cream for dessert, and it's made even easier with frozen waffles.
Combine your favorite soda + ice cream to make an ice cream float.
Warm brownies + ice cream + hot fudge…you're welcome!
Before you lick that ice cream cone, don't forget these simple ice cream tips:
–  The perfect scooping temperature for ice cream is between 6-10 degrees F.
–  To avoid brain freeze, don't allow ice cream to touch the roof of your mouth.
What are you waiting for? Celebrate National Ice Cream Day before it's too late!
---
[1] http://www.idfa.org/news-views/media-kits/ice-cream/july-is-national-ice-cream-month 
[2] http://www.idfa.org/news-views/media-kits/ice-cream/the-history-of-ice-cream
[3] http://www.icecream.com/icecreaminfo