Heart-Warming Dishes for Valentine's Day
It's the middle of February, and you know what that means! Everyone's favorite love-centric holiday is here. Happy Valentine's Day! Did you know, North America is not the only country to celebrate this love-filled occasion? It is also celebrated in Canada, Mexico, the United Kingdom, France and Australia[1]. People around the globe will be making big plans on February 14, and we want you to be prepared for a cozy night with the one you love—whether it's a friend, pet, relative or significant other!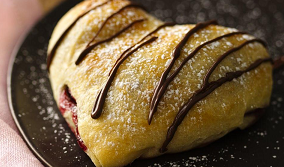 Did you know that nearly four in 10 of those celebrating the holiday plan to treat their dates to a night out at a restaurant, tickets to a show or another experience? This year, mix it up! Whether you are making a heart-shaped pizza, dining by candlelight, whipping up some fancy drinks or crafting valentines with your little ones…here are a few ideas for an elegant, gourmet meal or something quick and easy[2]!
Heart-filled snacks:
Desserts for your sweetie pie:
How will you be celebrating Valentine's Day? Let us know in the comments below!
---
[1] http://www.history.com/topics/valentines-day/history-of-valentines-day
[2] https://nrf.com/media/press-releases/dinner-and-movie-flowers-and-jewelry-bring-valentines-day-spending-record-high