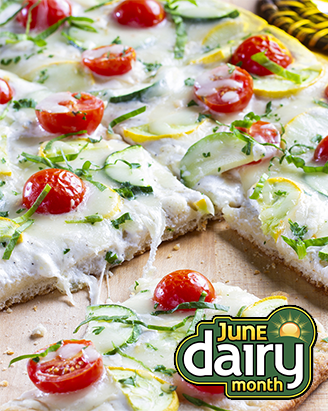 It's June, which means it's National Dairy Month! During our June Dairy Month national promotion, the entire month is dedicated to celebrating everything the dairy aisle has to offer. From the dairy staples to juices, biscuits and coffee creamers , plus we can't forget the decadent treats and even potatoes, now is the perfect time to stock up and Discover the Cool Possibilities in the dairy aisle!
While we've been celebrating June Dairy Month for 16 years, it actually originated in 1937[1]. At its origin, June Dairy Month was actually called National Milk Month. National Milk Month was celebrated for two years before the celebration expanded to all dairy products and the whole dairy aisle[1]. This month is dedicated towards celebrating the entire refrigerated dairy industry and its many contributors to our food society as we see it today.
In honor of this exciting month, from now until June 30th you can enter our June Dairy Month $10,000 Sweepstakes. Test your luck for a chance to win one of five $1,000 first prizes or the grand prize $5,000!
For product information, meal ideas and recipes, be sure to check out our sponsors and stock up on your favorite products before the month is over! Love to save? Keep a lookout for valuable coupon offers on Coupons.com for savings on your favorite dairy aisle products.
We almost forgot! If you're on Twitter, be sure to join our June Dairy Month Twitter Party on Tuesday, June 5th at 2:00 p.m. EST by

following @EasyHomeMeals and @ResourcefulMom. We'll be giving away prizes. along with some serious meal inspiration! Keep a pulse on our Facebook and Twitter pages for more details.
What are you waiting for… Discover the Cool Possibilities in the dairy aisle before June Dairy Month passes you by!
[1] http://www.dairyspot.com/dairy-farming/june-dairy-month-history/