Get Grillin' for National Hamburger Day
Perfectly timed with the beginning of grilling season, today is National Hamburger Day and May is actually National Burger Month! What's not to love about a juicy, grilled burger and all of the quintessential BBQ fare—potato salad, corn on the cob, dips—you name it! In celebration of this glorious culinary holiday and start of a great food season, here are some fun facts about everyone's favorite meaty sandwich[1].
Nearly 50 billion burgers are eaten in America each year. That's three burgers a week for every person in the U.S.!
Burgers account for 40 percent of all sandwiches sold in the U.S.
Don't settle for boring, try these fun toppings and combinations for your next burger[2]: 
– Marinara sauce + mozzarella cheese = zesty pizza burger
– Pesto sauce adds beautiful color and unique flavor to your burger
– Feta + tzatziki sauce = Greek burger
– If you love onions, try caramelized onions on your burger for a sweet twist
– Bacon + onion rings + barbecue sauce = smoky, sweet and a little bit salty
– While French fries often accompany hamburgers, for added crunch try topping your burger with French fries, tater tots or potato wedges
– Macaroni and cheese topped burgers makes for the ultimate cheesy explosion in your mouth
While the traditional hamburger is delicious on its own, these unique versions are totally irresistible: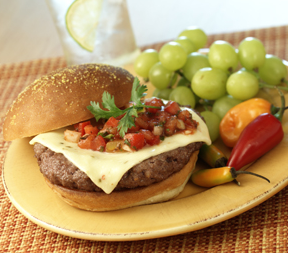 What's your FAVORITE type of burger to grill during the summer? Let us know in the comments below!
[1] http://www.huffingtonpost.com/2013/07/28/burger-facts-trivia_n_3654636.html
[2] http://www.onegreenplanet.org/vegan-food/new-and-different-ways-to-top-your-burger/