#FrozenChefMadness Competition – A Slam Dunk for Frozen Foods
First of all, Happy Spring and March Madness! if you've been following us on Facebook and Twitter especially, you've probably noticed us use the hashtag #FrozenChefMadness. In celebration of March Frozen Food Month, we partnered with Life of Dad, an influential network of dad bloggers, to host a recipe contest centered around creative dishes using frozen foods that are perfect for game-day.
In addition to the 16 Life of Dad bloggers we selected as ambassadors to the program, we opened up the competition to the public and had a total of 30 entries! We absolutely loved how creative these dads (and even a few moms) got with their dishes and were thrilled to see the variety of frozen foods used in their entries. (Keep reading to see the #EliteAte and #FinalFare finalists!)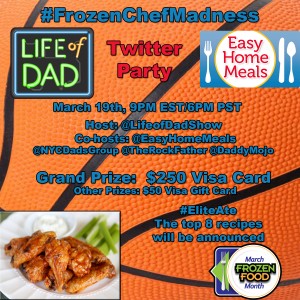 Last night we also held a #FrozenChefMadness Twitter Party with Life of Dad and a couple of the Life of Dad bloggers. If you aren't on Twitter or didn't get a chance to join us, let me tell you it was a HUGE success! During the Twitter chat we asked questions related to frozen foods and meal planning, and tweeted out lots of great recipes and tips. We were completely blown away by the hundreds of participants, fast pace of the chat and that #FrozenChefMadness trended on Twitter (we're kind of a big deal!) Throughout the party we also gave away a couple $50 Visa gift cards and one Grand Prize $250 Visa gift card as an added incentive to the chat participants.
During the Twitter Party we also announced our #EliteAte top 8 entries/cooks in the #FrozenChefMadness competition. These participants definitely went above and beyond to create tasty and original dishes using frozen foods.
Our Easy Home Meals team selected the winners on the basis of:
•How creative they got with their recipes
•How hungry the photos makes us
•How they use frozen food products in their recipes
Our #EliteAte included:
-Chris Nichols from Rated 4 and Up and his "New Orleans 3 Bit Burritos."
-Kadija Bridgewater and her "Loaded Chicken and Waffle Fries."
-Jeff Bogle from Out With The Kids and his "Tip-off Quiche."
-Chris Routly from Daddy Doctrines and his "Bánh mì Meatball Sliders with Cherry Lime Smoothie Shots."
-Beau Coffron from Lunchbox Dad and his "Bracket Buster Sliders."
-Trey Burley from Daddy Mojo and his "Pick and Roll BBQ Shrimp Peroigi."
-Debbie Reid and her Chicken Fajita Nachos.
-Amy Schwarzott and her Buffalo Madness.
Selecting our #EliteAte was no easy task, but it was even more difficult picking our #FinalFare, as it was an extremely close competition!
And drumroll please…. Our#FinalFare finalists (and top four cooks in #FrozenChefMadness competition) are:
–Chris Nichols
–Beau Coffron
-Debbie Reid
–Amy Schwarzott
These four finalists are now required to create a brand new frozen masterpiece using the same guidelines to be completed by March 31st. The Easy Home Meals team will judge the four new creations on the 31st and our #FrozenChefMadness winner will be announced on April 1st!
Regardless, all four chefs in our #FinalFare are leaving with a Visa gift card depending on where they finish.
1st Place – $800
2nd Place – $250
3rd Place – $150
4th Place – $100
We're looking forward to seeing how they can top the first round and absolutely cannot wait to taste their new creations! Best of luck to our #FinalFare chefs: Chris, Beau, Debbie and Amy, and thanks again to everybody that has participated in the #FrozenChefMadness competition! Stay tuned!