Frozen TV Dinners – Evolution of a Classic
Today we honor National TV Dinner Day! Let's pay homage to this throwback that changed the way Americans eat. A revolutionary new food trend for 1954, the original "TV Dinner" was introduced nationally and trademarked by C.A. Swanson & Sons. It contained roast turkey, cornbread dressing and gravy, peas and sweet potatoes—all for 98 cents.
The TV Dinner was a classic example of necessity being the mother of invention. Following the Thanksgiving holiday, Swanson had 520,000 pounds of unsold turkeys. The frozen turkeys were traveling coast to coast in refrigerated rail cars in order to keep them cool because Swanson had run out of freezer space in their warehouses. How would they rid themselves of the surplus turkeys?
During a routine sales call to Pittsburgh, Swanson executive Gerald Thomas saw single compartment metal trays being used by Pan American to serve heated meals on international flights. On his flight home, he sketched out the idea for a 3-compartment tray—a compartment for turkey and the other two compartments for sides. He took his idea to owners Gilbert and Clark Swanson and the rest is history.
The very first production run of 5,000 TV Dinners was considered risky business. The order was filled at night by two dozen women armed with ice cream scoops. By the end of 1954, ten million dinners were sold. It was a product whose time had come. Many of the 19 million women who took jobs outside the home during World War II continued working after the war ended. As the number of women working outside the home increased, so did the need for affordable, family meals that could be prepared quickly.
When frozen TV Dinners first came out, few people owned freezers. Most people bought them and prepared them that night. Soon after, freezer sales took off. At the onset, it was very "in" to eat TV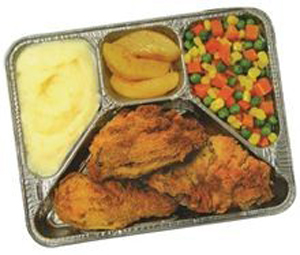 Dinners because it meant that you had or were going to soon get a TV. Many claimed the original TV Dinner trays were inspired by and resembled television sets at the time[2]. In the 1960s, the words "TV Dinner" were removed from the packaging, and a fourth compartment was added allowing for a brownie, cherry or apple cobbler for dessert. In keeping up with the times, Swanson retired the aluminum dinner tray in 1986 and introduced a new tray suitable for microwaving. That year, the Smithsonian Institute inducted the original Swanson TV Dinner tray into the Museum of American History.
Today, frozen entrées sales top $13.8 billion and have certainly evolved since their early beginnings[2]. Want to celebrate TV Dinner Day? Stop by your local supermarket and try some of these updates on an American classic!
Is your favorite frozen meal a timeless classic or a modern masterpiece? Tell us how today's frozen dinners bring convenience and simplicity to your life!  
Courtesy of Swanson archives.
[1] http://www.todayifoundout.com/index.php/2013/08/peeling-back-the-foil-the-origin-of-the-tv-dinner/
[2] Nielsen Total U.S. – All Outlets Combined Dollar Sales for 52 Weeks Ending 08/02/14
[3] http://recipes.howstuffworks.com/menus/history-tv-dinner.htm
[4] http://www.mariecallendersmeals.com/frozen-food-brand
[5] http://en.wikipedia.org/wiki/Lean_Cusine
[6] http://www.amys.com/about-us