Food Hacks for a Stress-Free Holiday Season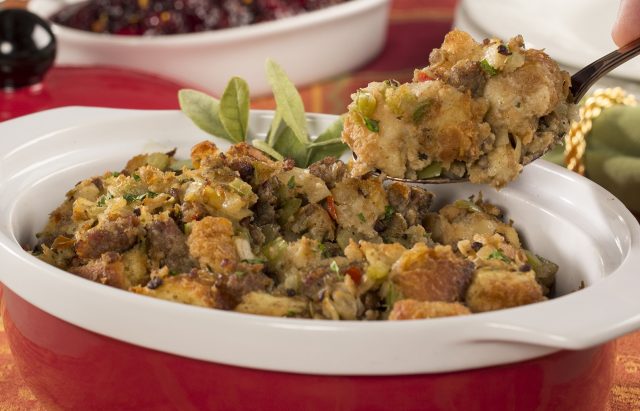 With the holiday season right around the corner, it's not too early to start thinking about what's on the menu. Whether you're hosting an "Ugly Sweater" dinner party, attending a friend's cocktail bash or cooking the big holiday feast, we all know how stressful it can be between the planning, grocery shopping and especially the cooking and baking. According to our recent survey, 38 percent of people say their biggest barrier in cooking is the time it takes to prepare a meal as well as the cleanup, while 18 percent say grocery shopping[1].
Fortunately, the frozen food and dairy aisles are full of food hacks, shortcuts and holiday helpers to make the holiday season a little more enjoyable—allowing you to spend less time in the kitchen and more time with your loved ones!
Amazing Appetizers
Deviled eggs are a definite go-to appetizer when entertaining. For a lighter touch, substitute Greek yogurt for mayonnaise.
Save time by using refrigerated pie crust, dough or biscuits to make charming appetizers, like Mini Beef Pot Pies.
Before serving cheese at a party, take it out of the fridge before guests arrive—it has its fullest flavor at room temperature.
Use frozen phyllo shells to make scrumptious hors d'oeuvres, such as Turkey, Gruyere and Cranberry Mini Phyllo Shells.
Use frozen puff pastry to create fancy finger foods, like Spinach, Crab & Artichoke Mini Tarts 

to kick off your holiday shindig!

 
For the ultimate, easy holiday hack, go to the frozen aisles of your grocery store and choose a ready-to-bake appetizer like chicken wings, mozzarella sticks or mini quiches.
Brilliant Beverages
Frozen fruit, like raspberries and strawberries, work great as ice cubes or garnish for holiday cocktails!

Use frozen fruit to make a fall punch or Sunset Sangria to quench your guests' thirst!
Add frozen fruit to your water, iced tea, lemonade, etc. for a refreshing splash of flavor.

Freeze dollops of whipped cream for a tasty addition to hot chocolate.

Use an egg substitute and skim milk for guilt-free Holiday Eggnog!
Use coffee creamers to make delicious and festive beverages, like a Hazelnut Coffee Smoothie with BAILEYS coffee creamer.
Freeze coffee creamer or milk in ice cube trays and mix in your hot coffee to cool it down.

If you prefer iced coffee, freezer coffee creamer or coffee to use as ice cubes to keep your coffee from getting watered down!
Excellent Entrées
1.  Ham
For a bone-in ham, buy at least 1/2 to 3/4 pounds per serving, or for a boneless ham, buy 1/4 to 1/2 pounds per serving. Allow for a thaw time of about four to five hours per pound.

You can make a scrumptious holiday ham glaze using frozen fruits like mango chunks, peach slices and blackberries in these tasty glaze recipes!
2.  Turkey
When buying a whole turkey, you should purchase at least one pound of uncooked turkey per person. Plan ahead to allow a full day for every four pounds of turkey being thawed.
It's best to let the turkey rest for 20 minutes before carving to allow the juices to set so the turkey will carve more easily.
Simple Side Dishes
You don't have to make everything from scratch. Frozen rolls and refrigerated biscuits are great time-savers and taste like homemade.
Try this twist on a holiday favorite, Shortcut Sausage Stuffing. It starts with frozen garlic bread and frozen veggies reducing a lot of the prep work.
Looking for a quick side dish to serve at your holiday feast? Oven-bake frozen asparagus and sprinkle with chives and Parmesan cheese.
It just isn't a holiday meal without sweet potatoes. Maple Mashed Sweet Potatoes with Cranberries doesn't get any easier when you start with Simply Potatoes refrigerated mashed sweet potatoes!
Stock up on frozen veggies like sweet corn and green beans for a super quick side dish or to add some color and crunch to casserole.
Decadent Desserts
Don't overload yourself trying to make all your desserts from scratch. With a cookie crumb crust and velvety layers of real cream cheese and pumpkin, Edward's new Pumpkin Crème Pie is the perfect indulgence this holiday season without all the work.
Once you bake up that delicious frozen pie of your choice, serve the slices on plates drizzled with chocolate or berry sauce and garnish it with a dollop of whipped cream and sprig of fresh mint. Everyone will be so impressed with the presentation, they'll never know you didn't make it from scratch!
Short on time but still want to create a homemade dessert? Crispy Cheesecake Squares start with a frozen store-bought cheesecake that's fancied-up with berry sauce and a crunchy coating.
Participating in a cookie exchange this year? Cut out cookies using ready-to-bake cookie dough and decorate with your favorite candies, frosting and sprinkles.
Need a last minute elegant dessert? Pick up a box of Delizza cream puffs or chocolate eclairs from the frozen food aisle and add your own personal touch like powdered sugar or chocolate drizzle!
 What's your favorite food hack during the busy holiday season? Share with us in the comments below!
[1] The survey was conducted online with a random sample of 1007 men and women, 18+ — all members of the Impulse Research proprietary online panel. The Impulse Research proprietary online panel has been carefully selected to closely match US population demographics and the respondents are representative of American men and women 18+. Research was conducted in August 2014. The overall sampling error rate for this survey is +/-3% at the 95% rate of confidence