Our Favorite Discoveries in the Dairy Aisle
Since last month was all about frozen foods for March Frozen Food Month, we wanted to show some love to our other favorite "cool" section of the grocery store—the dairy aisle! The ladies from the Easy Home Meal team shares their newest and favorite finds in the dairy aisle.
~Roxanne:
Every time I take a trip to the grocery store I find myself walking down the dairy aisle verrrry slowlyyyy. I mean, have you ever noticed how many great products are in that aisle, beyond dairy? If you actually take some time to explore the aisle carefully, you'll discover so many new products that can make life easier (and taste better!). It's not just the staples: milk, eggs, cheese and butter anymore. There's iced coffee, juices, cookie dough, puddings, milk alternatives, yogurts, tortillas, dips, coffee creamers, potatoes and the list goes on and on.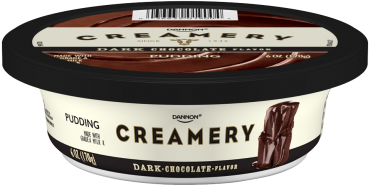 One product I recently discovered is Dannon Creamery Dark Chocolate Pudding. I'm a huge fan of dark chocolate, and pudding is great at satisfying my sweet tooth. The best part—one whole container is only 210 calories! The thing that makes this pudding and the other Dannon Creamery desserts different is that it's made with traditional Grade A milk and Greek yogurt (so that makes them healthy desserts, obviously).
I love the convenience of the pudding and the rich taste. It's perfect for an anytime snack or quick dessert, and makes a nice addition to my packed lunches for work 😉 I think next time I'm at the grocery store I'll have to try the other Creamery desserts. Besides their puddings in vanilla, dark and milk chocolate, they also have five flavors of cheesecake desserts. I absolutely cannot wait to try the Strawberry Cheesecake…mmm sounds amazing!
~Natalie:
Who doesn't love springtime? The weather is beautiful with sunny skies, warm breezes, more outdoor activities and better moods. Something I personally love when the weather gets nice is rolling through the drive thru with my sunroof open and windows down to get a refreshing drink. Iced tea, smoothies, frappuccinos… you name it, I'm a fan. But hands down my favorite is iced coffee – whether it's from Starbucks, Dunkin Donuts… I love it all! Although I limit myself to one yummy beverage a week (my attempt at being "healthier" this year – ha), the cost still adds up and I can't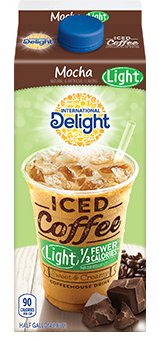 help but feel a little guilty because of my astronomical amount of student loan debt and other bills (when did I become such an adult?!).
Fortunately, I found a solution to this conundrum. While perusing the refrigerated aisle at the grocery store, I came across International Delight Iced Coffee. It's like the heavens opened their gates and shown a light on these holy half gallons!! There were so many to choose from – Caramel Macchiato, Vanilla, Mocha, even Cookies 'n' Crème. Some flavors even come in a light version with fewer calories – all for under $4! How excited was I to find a cheap alternative to "coffeehouse" drinks for less money and the convenience of keeping it in my own fridge. Now the only issue is utilizing my self-control 🙂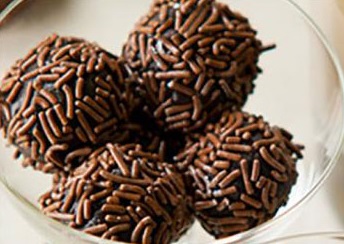 What's even greater is International Delight features a ton of recipes on their website using iced coffee. I came across this must-make recipe for Milk Chocolate Café Truffles that uses only a few ingredients, including the iced coffee I just picked up. I assure you my world doesn't revolve around iced coffee and other decadent treats, but boy do they make life sweeter!
~Judy:
My favorite recent find in the dairy aisle is Sargento's new Tastings cheese line. These are specialty cheeses (eight varieties to choose from)—that in presentation and taste make you feel like you have bought the very exclusive, expensive cheeses that are normally found in gourmet food shops (i.e. they are not expensive, they just look that way!).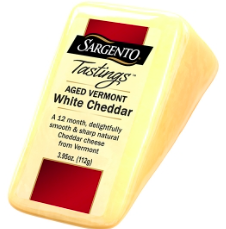 I recently hosted a book club meeting at my home and like most book clubs, we aren't just about books…we love good food and wine! So I served three of my favorite Tastings flavors: Aged Vermont White Cheddar, Creamy Havarti and Fiesta Pepper Jack—yum. The Tastings cheeses are perfectly portioned and shaped nicely for a cheese board. I added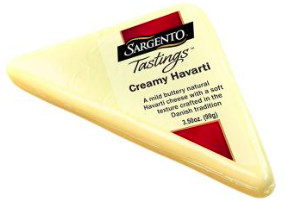 fruit and crackers to complete this very tempting and delicious-looking appetizer.
I then paired each of the cheeses with the wine varieties recommended by Sargento. The wine and cheese "matchings" truly did "bring something special" to the evening. The Cabernet Sauvignon was amazing with the Vermont White Cheddar, Sauvignon Blanc worked beautifully with the Creamy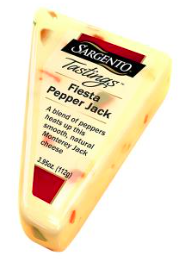 Havarti and a good Zinfandel complimented the Fiesta Pepper Jack perfectly!
I highly recommend these cheese selections and to do a "Tastings" wine and cheese experience at your next gathering!
~Lindsay:
I stumbled upon this product in the dairy aisle of my grocery store a few months ago! Around the holidays, I was looking for quick appetizers to pull together for different holiday parties, and the spreadable cheeses from Kaukauna Cheese were a delightful find! I served the spreadable cheeses on a platter with fruits, crackers, and pretzel crisps. Although they make for great appetizers to entertain with, they are also a quick and easy snack when you're craving something salty!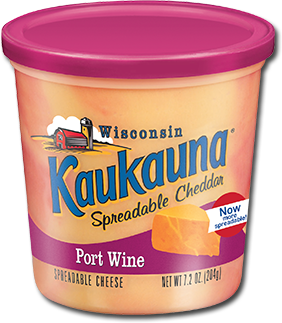 The Port Wine Spreadable Cheese is by far my favorite and I cannot get enough of this dairy product! With over eight different spreadable cheese flavors from Kaukauna, there is something for everyone, including lite options! From Swiss Almond, to Vegetable, the delicious possibilities are endless!
Now that we've shared our newest dairy aisle discoveries, it's your turn! What's your latest find? Let us know in the comments below 🙂