Fall in Love with these Valentine's Day Traditions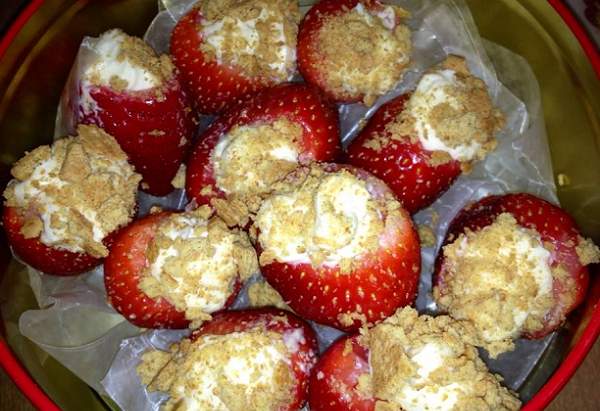 With Valentine's Day right around the corner, we wanted to share our own traditions and favorite treats….
~Julie:
When it comes to dessert, there's nothing better than crème brûlée. All that sugary, custard-y goodness, and I can't say no! As a gift to myself one year, I bought the whole set – ramekins, crystallizing sugar and the butane torch. Because, why not? What better way to have crème brûlée any time I want it? Well, as most things in life, it didn't quite work out that way.
It seems it actually takes a little forethought to make this dream dessert. After it's baked it has to cool in the refrigerator – preferably overnight. Unfortunately, I'm not usually that prepared. But I did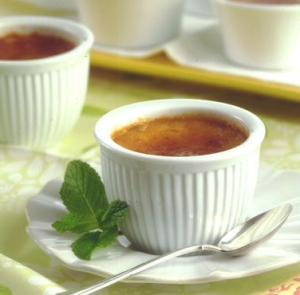 make it a tradition to bake the custard and fire up the torch to celebrate Valentine's Day with my son. What better way to show my love and trust than to let him play with fire?
Over the years, I've even found an easy way to try out new flavors of our favorite dessert. My secret…liquid coffee creamer! My favorite is Nestlé Coffee-mate's Vanilla Caramel Crème Brûlée. One trip down the dairy aisle and I have all I need—eggs, heavy cream and coffee creamer.
This Valentine's Day will be a little different, though. I don't think crème brûlée will ship very well in the mail. Never fear! Even though my son is away at college now, I'm still planning to send a box of goodies. You know, everything a broke, hard-working college student needs—coffee, candy, cookies, coffee, Easy Mac, power bars and coffee. Nestle Toll House Refrigerated Cookie Dough cookies to the rescue! It's more shippable and shareable than crème brûlée. And a new tradition begins!
~Roxanne:
I'll admit, I'm a sucker for romance. So of course, Valentine's Day is one of my favorite holidays (even though some people feel it's a made up holiday). I think I love it so much because I simply love love. And of course, the yummy treats that accompany Valentine's Day don't hurt either 😉
Since I have a ginourmous sweet tooth and enjoy baking and making decadent desserts, this is obviously one of my favorite holidays to go all out for. Between chocolate covered strawberries, white chocolate peanut butter balls, brownies and white chocolate macadamia nut cookies, my boyfriend is one spoiled guy for Valentine's Day! And of course, my family also reaps the benefits from the leftovers. As you can see, the week of Valentine's Day is a busy week for me, but it's a tradition that I will never tire of.
One of my favorite Valentine's treats that I made for the first time last year were Cheesecake-Stuffed Strawberries—strawberries stuffed with a cream cheese mixture and topped with crushed graham cracker. Oh my word these strawberries were seriously amazing and a huge hit with my boyfriend and family. While they were a little time consuming and messy, between carving out the strawberries and filling them with the cheesecake, it's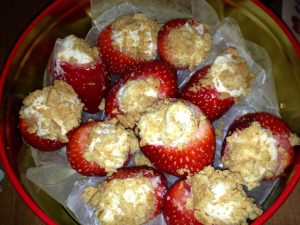 definitely worth it! Here's the recipe I used:
Cheesecake-Stuffed Strawberries
1 (8 oz.) package cream cheese, softened (I used low-fat)
1/3 cup confectioners' sugar
1 tsp. vanilla extract
1 pint fresh strawberries, hulled and cored
3 original graham crackers, crushed
Beat cream cheese, confectioners' sugar and vanilla extract together in a mixer until smooth. Spoon the cream cheese mixture into a piping bag or a resealable bag with a corner snipped. Fill the cored strawberries with the cream cheese mixture. Sprinkle the strawberries with the crushed graham crackers to coat.
Just a few tips: Be sure the cream cheese is very softened or you'll have clumps. Also, the graham cracker pieces will get a little soggy in the refrigerator, so I recommend either eating the finished strawberries right away (duh!) or sprinkling the graham cracker on right before serving.
These strawberries are absolutely to die for and give regular chocolate covered strawberries a run for their money. I'll definitely be making these again this year. Happy Valentine's Day!
~Natalie:
February is the shortest month of the year, but it's one that's filled with chocolate (National Chocolate Lover's Month), snacks (National Snack Food Month) and love (Valentine's Day, of course!) I'm not one who absolutely gushes over the holiday, but I'm not a hater either. I think Valentine's Day is an awesome opportunity to show love for the important people in your life—which doesn't necessarily always have to be a significant other. I don't have any solid Valentine's Day traditions, but I can tell you they have always involved people I care about.
In college, my roommate and I went on lunch or dinner dates to celebrate the holiday. When my boyfriend and I started dating, we'd go out to dinner or make something special at home. One year we took his grandma out to one of her favorite restaurants for dinner, and she loved it! Last year, Valentine's Day fell on a day with lots of snow, and I remember my boyfriend made the messy trek home and still managed to bring me roses. For 2015, we plan on going out to eat at Mexican restaurant we haven't tried, and we'll have dessert at home. I haven't decided what that will be yet, but I've come across some recipes recently that I'm dying to try!
My boyfriend LOVES red velvet sweets (maybe more than he loves me :P) so I might surprise him with these Red Velvet Chocolate-Swirled Brownie Bars. A dessert we both love equally as much is Crème Brûlée, which is something I've never made at home! If I'm really feeling ambitious, I'll go for this Strawberry-Mascarpone-Hazelnut Chocolate Tart. Whatever we choose, I'm sure it will hit the spot. This Valentine's Day, I'm making sure to think of all the people who mean so much to me. And hey, I might even share my Happy Heart's Day treats with them!!
~Judy:
Valentine's Day has always been one of my favorite holidays. What's not to like? Flowers…chocolates…special dinners…everything red (my absolute favorite color) and most importantly…you can celebrate with the people you love!
The day was always an anticipated one in our house when our children were young. We prepared a special dinner to be served in the dining room, using the good china, silver, crystal, linen napkins and of course candles. Everyone had to dress up with red being a required clothing color. The table was decorated in red and white, and all of the food was primarily red and white (we always served a family favorite: spaghetti!) We even dropped a little red food coloring in the milk for a special Valentine's Pink Drink! 🙂
Like most young couples, my husband and I were busy working parents with not a lot of time to pull together an "event" like this, especially when Valentine's Day landed on a weekday.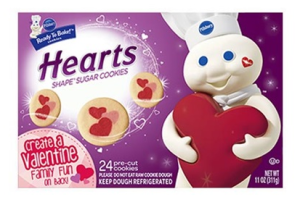 I remember always setting the table the night before and making sure the dinner was very easy to prepare (so there was no stress in the preparation, serving and cleaning up). And for the dessert selection (everyone's favorite of course), we always baked the Pillsbury Hearts Shape Sugar Cookies! They were adorable, delicious and took only minutes to prepare. And when served on a dessert plate they made the perfect ending to a very fun and sweet family Valentine's dinner!
I know the evening may sound a little over-the-top and possibly not worth the time invested, but we found with just a little bit of effort, we were able to make it work. We are so very glad we did.  Today, the memories are priceless for all of us and I'm going to bet that someday, when our 20-something children have kids of their own, they will also do something sweet on this special holiday!
How will you celebrate Valentine's Day? Share your Valentine's Day sweets and treats ideas in the comments below!