"Fall" in Love with these Seasonal Treats & Eats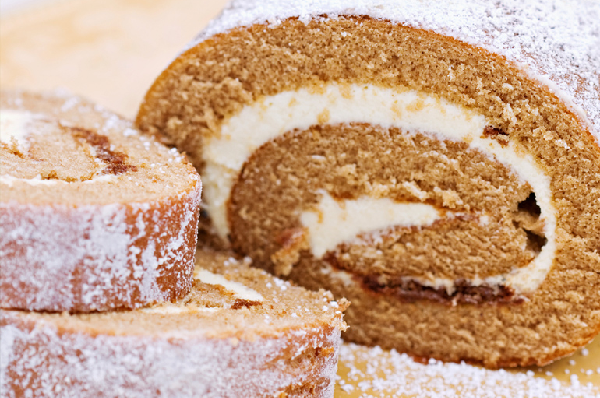 It's official, autumn is here to stay and summer is just a memory. Although we'll miss frozen drinks by the pool, barbecues with neighbors and the warm weather, there's much to look forward to with the fall season. Between the gorgeous foliage from the changing leaves, hot chocolate, bonfires, boots, football, apple cider, pumpkins…and our favorite: fall recipes, let's hear it for fall!
Whether you're all about the fall harvest of pumpkins, apples, squash, etc., or you're ready for belly-warming soups, there's nothing quite like food during this season. "Fall" in love with these scrumptious fall recipes and comforting meal ideas:
Fall Treats~
The fall season is definitely all about pumpkin, and this scrumptious Spiced Pumpkin Roll is a fall dessert staple for sure!
If you're obsessed like we are with pumpkin spice lattes from specialty coffee shops (but don't want to pay $5 a cup), you can be your own barista by pairing your home-brewed coffee with pumpkin flavored coffee creamer from the dairy aisle. Voila!
Speaking of pumpkin spice, our Pumpkin Spice Fluff Dip tastes like pumpkin pie with half the work!


Speaking of pumpkin pies, the frozen food aisle has bake-shop quality pumpkin pies and cheesecakes that taste just like grandma's from when you were growing up! 

If your sweet tooth is craving the comforting tastes of apple, the frozen food aisle also has apple pies, cobblers and other apple-licious desserts—just heat and serve with vanilla ice cream or a dollop of whipped cream topping!
Along with apples, cranberries are also great during the fall season and they really do get you in the mood for the holidays that are just around the corner. Celebrity Chef Aida's Mollenkamp's Spiced Apple-Cranberry Biscuit Pies are the ultimate hand-held dessert starring this dynamic duo!
Salted caramel is another one of our favorite flavor combinations. These Salted Caramel Apple Phyllo Tarts are absolutely to die for (especially if you love caramel apples!)
We swear that sweet potatoes taste sweetest during the fall and winter seasons. As the cooler temperatures roll in, this delicious Sweet Potato Soup is great for dinner!
Gooey macaroni and cheese, whether homemade or from the frozen food aisle, is definitely a go-to during the fall.
Whether you're distraught over summer being over, or needing something to warm you up, pot pie is the ultimate comfort food! Heat up White Meat Chicken Pot Pie from the freezer aisle for a tasty meal with no prep.
One of our go-to meals during those brisk fall evenings is most definitely chili! Make your chili more filling and wholesome by adding in frozen vegetables such as corn, zucchini and squash. Don't forget to top your chili with sour cream and shredded cheese!
Speaking of squash, this Pumpkin Squash Ravioli just screams fall!
We love a hearty casserole anytime of the year, but especially during Autumn. They're so great because you can make them ahead of time and have leftovers! Plus, you can throw in your favorite frozen veggies for added flavor and nutrients!
Last but not least, our most favorite comfort food in the fall is mashed potatoes! We swear by the mashed potatoes from the dairy aisle—just heat and enjoy that from scratch taste without the work.
What gets you in the mood for fall? Share your favorite fall dessert or comfort food in the comments below!