FALL in Love with these Cool Food Panel Recipes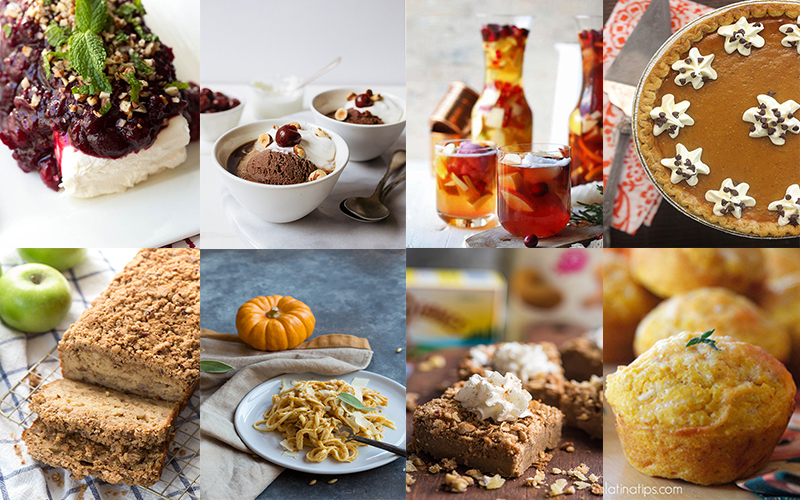 As the end of the fall months near, we have to look back on our Cool Food Panel and their exquisite recipes that they created during the autumn season. These Cool Food Panel members celebrated the spooky month of October and the crisp month of November with recipes that embrace the flavors of fall. Whether you're enjoying a night in with friends or a family dinner or maybe even a party, these recipes will guide you through it. From drinks to dips and all the in betweens, start your gathering with one of these decadent recipes.
Ashley from Spoonful of Flavor – Greek Yogurt Apple Spice Bread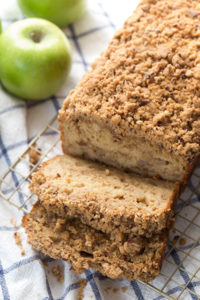 "The arrival of fall means endless opportunities for baking. It also means apple picking, pumpkin picking and Halloween. After my recent visit to New England, I returned home on the quest to make anything and everything with fresh apples and apple cider. Greek Yogurt Apple Spice Bread is packed with fresh apples and fall spices. Your kitchen smells amazing while it is baking and you won't be able to resist eating more than one slice. Kids and adults will love this easy bread made with the freshest flavors of the season!"
Kristina from Love and Zest – Pumpkin Spice Vodka Sauce Linguine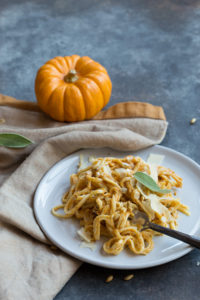 "If you want to know what adulting looks like on Halloween, it's eating a bowl of Pumpkin Spice Vodka Sauce Linguine and watching spooky classics with your favorite people.I'll be doing the trick- or- treat thing with a toddler on Halloween night… but you better believe Pumpkin Spice Vodka Sauce Linguine will be had as a pregame meal. #momlife"
Dani from The Adventure Bite – Gingerbread Crunch Magic Cake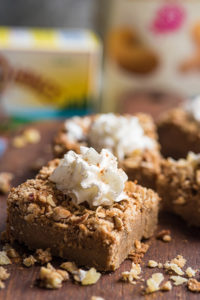 "This Gingerbread Crunch Magic Cake is a festive spiced holiday twist on the classic magic cake. One batter magically separates into layers to create your new holiday must have dessert! This year we decided a little more gingerbread was needed in our life this fall. It just seemed unfair that such a delicious flavor should be relegated to only December. Just putting it in cookies and of course the gingerbread houses that never get to be eaten felt like such a shame.So we set out to bring gingerbread to a fun fall cake! I wanted something that would lend itself to being a snack coffee cake of sorts. But, I also wanted a cake that was almost pudding like, reminiscent of a pumpkin pie style if you would, but that was firm enough to be picked up and eaten with coffee."
Silvia from Mama Latina Tips – Pumpkin Cornbread Muffins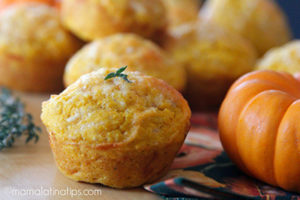 "The holidays are almost here, a time when we hope to spend quality time with friends and family. Fall flavors are all around us, cranberries, pumpkins, sweet potatoes, squash, ginger, apples, pears, maple, turkey, and more. It's during these times I like to pay special attention to making sure I have my fridge and freezer stocked up with the right foods for preparing both comforting menus to enjoy with my loved ones, as well as quick, tasty treats for guests.I like to concentrate on real, simple, fresh ingredients that can fit into a well-balanced lifestyle. Ingredients that are not only nutritious, but taste delicious and leave everyone feeling satisfied. Foods just like the wholesome ingredients in these Pumpkin Cornbread Muffins, made with farm-grown cornmeal and pumpkin along with classic farm to table stars from the dairy aisle like milk, eggs and cheese."
Bill from Chef Billy Parisi – Fall Sangria Recipe with Apples and Cranberries
"There wasn't much of a fall this year, but I'm doing everything I can to embrace it, so I made this Fall Sangria Recipe with Apples and Cranberries.  It may be sub 40° temperatures outside but in my mind, it's fall and I'm going to celebrate it as such! Sangria is always a super fun drink to make no matter what kind of year, because depending on what's in season you can make a really cool customized adult beverage.  For example, you may have a sangria loaded with berries in the summer time and like this fall sangria recipe, loaded with citrus, apples, pears and cranberries.  The flavors of each are completely different and still absolutely delicious.  To take my fall sangria recipe to whole 'nother level, I thought it would be an amazing idea to chill each sangria drink after poured with some Lindy's® Italian Ice!"
Ashley from Spoonful of Flavor – Spiked Cranberry Cream Cheese Spread with Pecans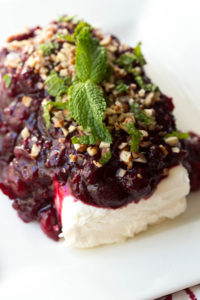 "Spiked Cranberry Cream Cheese Spread with Pecans is an easy appetizer or snack recipe that comes together in 15 minutes! Serve it at your next dinner or holiday party. Are you ready for the holiday season? Spiked Cranberry Cream Cheese Spread is a quick and easy appetizer that is packed with fresh cranberry flavor. I used my favorite Cape Cod Select Cranberries Plus Blueberries, Blackberries and Raspberries blend. The berries simmer on the stove with red wine, honey, cinnamon and orange to create a simple cranberry sauce. Pour the cooled sauce over a block of softened Kraft PHILADELPHIA original cream cheese and then top with pecans and fresh mint. Serve with crackers or fresh bread. Add it to a cheese or charcuterie board. It's that easy! The entire thing comes together in less than 15 minutes and can be prepped in advance."
Dawn from Cutefetti – How to Make a Frozen Pie your Own for the Holidays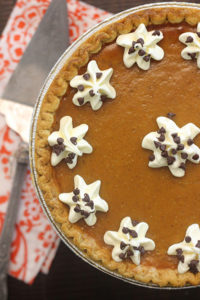 "The holidays are on the way! You know what that means? A huge to do list! Before things get hectic, let me introduce you to some dessert hacks that will save you a lot of time. I'm going to share four delicious ways that you can make a frozen pie your own this holiday season. You won't need to sacrifice flavor or that sense of pride when you serve up a beautiful semi homemade pie creation with Mrs. Smith's pies."
Christina from Dessert for Two – Hazelnut Mocha Affogato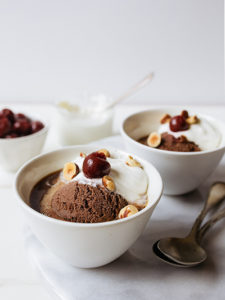 "Since my husband is such an ice cream fiend, we always have some in the freezer (usually several flavors). And while he's perfectly happy to eat it straight from the carton, I'm always looking for ways to incorporate it into a dessert. I especially love using ice cream in a dessert around the holidays because it's so unexpected. Plus, SO easy! If you've never had an affogato and you're a coffee lover, please, let's do this together. I promise it will become your obsession. Affogato is a shot of strong coffee (or espresso) poured over a scoop of ice cream. The hot coffee melts the ice cream slightly, and it's everything you need in life: caffeine plus sugar, hot plus cold. Amen."
What recipe will you try first? Stay tuned for even more recipes from our Cool Food Panel next month!