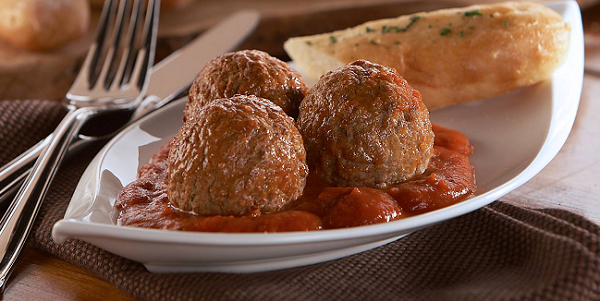 Fall has officially arrived and, with the cooler temperatures and nip in the air, comes an increased appetite for meals and snacks that provide warmth and goodness.  It is Rosina season!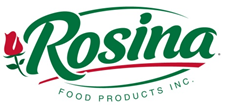 And, providing real Italian style goodness is just what we do at Rosina Food Products, Inc., with our freshly frozen meatball product line under the Rosina®, Celentano® and Italian Village® brands AND with our all-natural line of frozen stuffed pasta under the Celentano®, Italian Village® and Floresta® brands.
But, let's start at the beginning…..It all started with a MEATBALL!  Back in 1963, James Corigliano, operating a small store front sausage business in Buffalo, New York, was often
asked to bring something to local area events, such as church bazaars.  His wife, Rose, would whip up her family meatball recipe—which was inspired by Italy and perfected by
Rose.  These delicious meatballs were a huge HIT and requests began pouring in.  James added these meatballs to his business and started selling frozen versions to meet demand.  The famous frozen meatballs, along with the addition of frozen stuffed pasta, became the underpinning for Rosina Food Products, Inc.—proudly named after Rose, as 'Rosina' is the Italian translation of this name.  Rosina remains family owned and operated for 3 generations and over 50 years!
Our Products
Rosina is inspired by its real Italian heritage to provide families a wide variety of great-tasting, easy-to-prepare meatball and pasta products, so you can spend less time preparing your meals and more time enjoying them with family and friends.
Oven-Baked Goodness: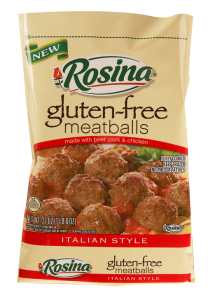 Made with only the best ingredients and with no preservatives, Rosina meatballs are oven-baked, for a healthier choice, and seared to lock in taste.  We freeze our meatballs at the peak of freshness so they're farm-to-table fresh when you're ready to prepare them.  Serve them for lunch, dinner, or as an appetizer at your next party.
Make sure to also try our 100% gluten free beef meatball!
All-Natural Goodness: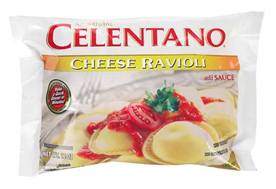 Inspired by real Italian tradition, Celentano (by Rosina) offers you and your family great-tasting, easy-to-prepare pasta.  Made with only the best ingredients, our all-natural, preservative free, authentic Italian pasta provides an excellent source of iron and protein.  Frozen at the peak of freshness, our pasta tastes farm-to-table fresh upon preparation.  Enjoy for lunch or dinner with your family and friends.
Featured Recipes
Our dedicated chefs have developed numerous great-tasting recipes for all occasions from main course to soups and salads and appetizers. Visit our recipe page to discover new and exciting recipes.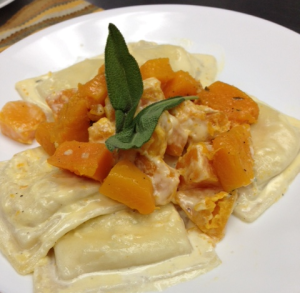 To enjoy the best of Fall flavors, we recommend:
Where to Find Us
Look for us in your local grocer's freezer. Contact customer service for product availability in your area at 1-888-767-4621 or email [email protected].
Be sure to visit Rosina on Facebook and Pinterest.
---
About Rosina Food Products, Inc.
Rosina Food Products, Inc. is a leading frozen food manufacturer of delicious and authentic Italian pasta and meatball products.  Operating in 3 channels of distribution, Retail, Foodservice and Industrial, our products are enjoyed in all 50 states as well as Canada, Mexico, Puerto Rico, the Caribbean and Virgin Islands.  Our brands include Rosina, Celentano, Italian Village, Floresta and San Rallo.  This family owned company has been operating out of Buffalo, NY for over 50 years.
Rosina Food Products, Inc. is a member of the National Frozen & Refrigerated Foods Association.