Embrace the Weekend with a Brunch Bar!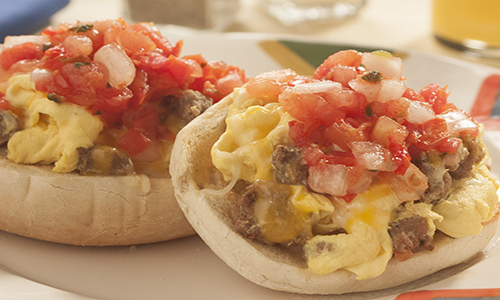 When the weekend rolls around, it's time to lounge and take a breather from the work week. But, one event that has been growing in popularity and doesn't seem to be slowing down is BRUNCH. In fact, the story of brunch is the story of changing patterns in how Americans eat, live and interact[1]. Research shows that Sunday is the most popular brunch day, since schedules aren't as tight and cravings have built up over the course of the week[1]. This weekend, we suggest hunkering down at home and throwing your very own brunch!
To make things even more fun and interactive, we recommend a creative culinary bar with stations for guests to customize as they please! Everything is simply assembled and made with help from
convenient and delicious frozen and refrigerated items. Below are some of our favorite brunch themes.
Mini frittata brunch bar
Make the eggs, and offer everyone their choice of add-ins, including: ham, bacon, sausage, spinach, broccoli, cheese, salsa and more. You might have many of these ingredients already in your fridge and freezer, but if not, head to the grocery for a quick pit stop and grab these tasty kitchen staples.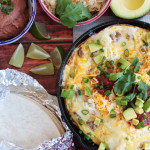 Yogurt parfait brunch bar
Provide various flavors of yogurt (Greek and regular) and all the stir-ins you can imagine, such as: fruit (frozen fruit is so convenient and just takes a little thawing), granola, assortments of nuts, dried fruit bits, honey and maple syrup, mini chocolate chips and more.
Waffle and pancake brunch bar 
Grab all the boxes and varieties of frozen waffles and pancakes you can find (no need for a waffle iron here!), and let everyone choose their adventure. Make 'em sweet with fruit, powdered sugar, whipped topping, syrup, chocolate chips, jam, peanut butter and yogurt… Or go savory with shredded cheese, bacon or sausage, fried egg, onions, other veggies and more!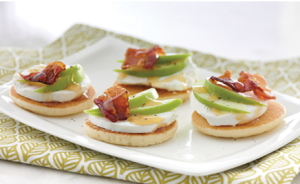 Really wow your guests by cooking up frozen fried chicken strips. They're ready in a moment's notice, and everyone will be talking about your trendy chicken and waffles for weeks!
Bloody Mary brunch bar
Mix up a classic batch of Bloody Marys, and let everyone choose their add-ons. Try mixing with: hot spices and sauces, celery, bacon, pickled veggies, olives, shrimp (keep frozen bags on-hand for impromptu brunches), lemon and limes. Have a bag of frozen asparagus spears? Offer them as stirrers!
Taco brunch bar 
Make a Mexican-inspired meal for brunch with customizable tacos. Whip up a batch of scrambled eggs as your base, and go wild with the rest. Pair with crumbled turkey sausage (the frozen kind is ready-to-eat after a quick sauté), shredded cheese (any and all flavors), avocado, black or refried beans, onion and chives. The must-have side dish (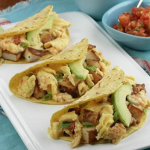 or maybe even IN the taco!) are homefries. Make things much easier by grabbing a bag of homefries that have been seasoned for you, from the freezer or refrigerated dairy aisle. Even try the sweet potato varieties for a fun twist!
Oatmeal brunch bar
Set the crockpot to cook overnight and have delicious and hearty oatmeal ready just in time for the guests to arrive. Suggested garnishes include: brown sugar, chopped nuts, toasted coconut, syrup and honey, frozen blueberries, sliced bananas and many more!
Bagel brunch bar 
Buy a bunch of bagels and English muffins (grab a bag or two from the freezer aisle so nothing goes to waste) in all flavors and let the "schmearing" begin! Top those toasted bagels with flavored cream cheeses, sliced tomatoes, capers, cucumbers, radishes, red onion, smoked salmon, herbs and spices.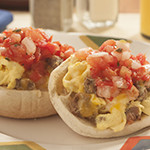 Mimosa brunch bar 
Take a bottle of champagne and as many bottles of juice you can hold— head for the refrigerated aisle in the grocery at your next trip, as they have SO many kinds of juices to choose from: orange, grapefruit, cranberry and a range of other fun fruit combos. Garnish your bubbly with lemon, lime or oranges and frozen fruit for fun ice cubes.
For even more brunch inspiration and mouthwatering meal options, head to "Brunch Bars" on Pinterest and start browsing! Also, check out our recipe page for breakfast + lunch ideas.
---
[1] https://www.washingtonpost.com/news/wonk/wp/2015/04/10/how-brunch-became-the-most-delicious-and-divisive-meal-in-america/