Embrace the Harvest with Fall Entertaining Tips & Tricks
Crisp weather, brightly colored leaves and meals filled with festive flavors like pumpkin, cranberry and apple are in full force now that the yearly harvest has begun! From Halloween parties, hosting out-of-town guests and attending themed-gatherings, autumn is the time of the year when communities start decorating and preparing for upcoming events. 
In addition to decorations, food choices start to align with the cooler weather and colors of the season— take advantage of once-a-year ingredients (shout out to cider and caramel apples) and transform your meals into warm and spiced dishes.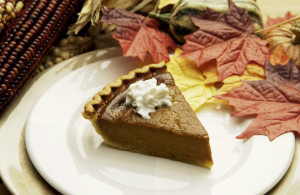 Just in time for your party prepping and influx of invitations from family and friends, here are a few helpful tips for fully embracing fall entertaining[1]:
Prepare a seasonal feast. Think of earthy, warm and inviting ingredients that are fall-esque, such as pears, figs, sweet potatoes and squash. Don't forget spices of-the-moment like cardamom, ginger, cloves and cinnamon. TIP: Make your delectable dessert the centerpiece: top the pumpkin pie with whipped cream and a sprinkling of cinnamon with unscented candles surrounding the room.
Spice it up with a signature cocktail. Welcome guests with a spicy, heart-warming cocktail or cider with a seasonal flair. TIP: Create a post-dinner cocktail with seasonal creamers in pumpkin spice or peppermint flavors or make special ice cubes with frozen fruit.
Bring outside decorations inside. Use what is available, such as colorful leaves and beautifully scented pine cones for table scape ideas— you can even use produce like beets and chard or herbs such as rosemary for food art decorations. TIP: Pair your vegetable table scape with your crudité and premade dip such as hummus, spinach & artichoke or simple Greek yogurt flavored with herbs.
While many of you may be attending "home-gate" parties for big football games or hosting potlucks in the coming months, it's good to keep in mind the ages of those in attendance— family parties with children or those nights just for the adults! Here are our favorite kid and adult-friendly recipes: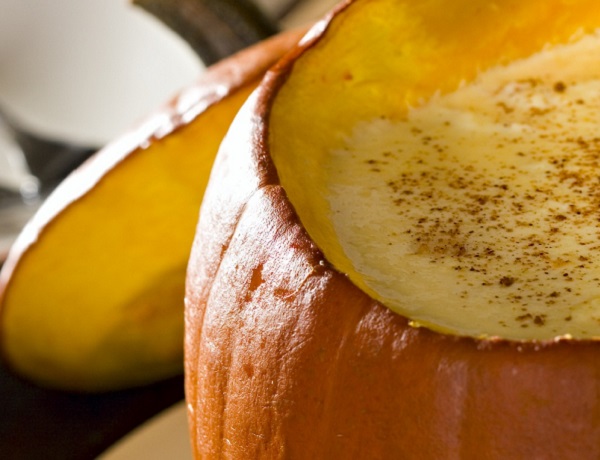 Appetizers go hand-in-hand with festive soirees. Pumpkin Spice Fluff Dip can be served in a carved out pumpkin and paired with crackers— bonus, this dip only has four ingredients: frozen whipped topping + instant vanilla pudding + pumpkin + pumpkin pie spice.
Cater to the kids—and everyone. Serve Greek-Style Chicken Tostadas with Yogurt Sauce that taste more delicious as the layers pile on; cucumber, onion, tomatoes, feta cheese and shredded chicken all on top of a crisp, baked tortilla.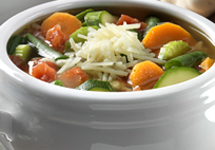 Warm the room and satisfy hungry sports-watching fans. Share heaping bowls of Tortellini Vegetable Soup, simply made with frozen cheese tortellini and frozen mixed vegetables.
Sophisticated beverages.  While everybody loves egg nog around the holidays, this Almond Pumpkin Nog is perfect for your autumn get-togethers!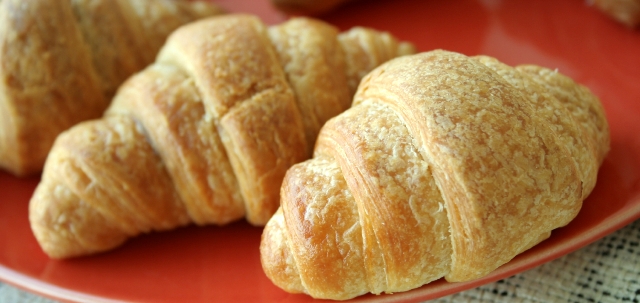 Pass around rolls. Cheesy Garlic Crescent rolls wipe up excess soup at the bottom of the bowl. Made from crescents rolls from the dairy aisle and a sprinkling of essential herbs (basil, oregano garlic) with a fun surprise of ooey-gooey cheese in the middle.
Throwing a fall-themed bash? Prepping a pumpkin-inspired party? Decorating the house and cooking a meal for out-of-town guests? Let us know how you're entertaining this fall in the comments below! 
---
[1] http://www.huffingtonpost.com/carla-mcdonald-/10-tips-for-fall-entertai_b_5871124.html