Easy Home Meals Team Tries New Cookout Favorites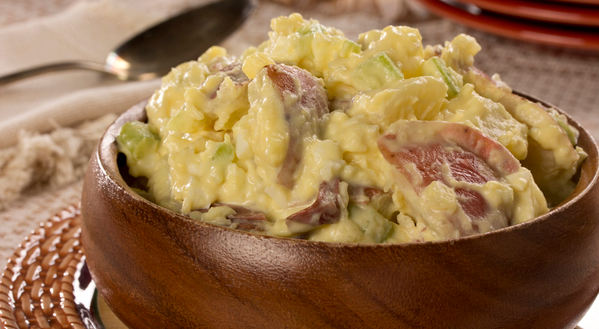 Is there a side dish, appetizer or beverage that a relative or friend always makes for your summer get-togethers or cookouts? You know, your cousin's coleslaw or grandma's macaroni salad? Wouldn't it be nice to enjoy that favorite dish whenever you'd like? The ladies of the Easy Home Meals team are taking their own favorites and attempting to make them all by themselves!

Julie~
Growing up on an egg farm, of course for every BBQ or cookout, my mother was responsible for making the deviled or pickled eggs. After years of practice, of course they always look perfect and delicious (if you like eggs). My mom, the eggs-pert, says place your eggs in pan of cold water and when it comes to a boil begin the timer for 9 minutes of boiling time.  After 9 minutes, remove from the burner and let set for another 8-9 minutes. Drain the eggs and shock them by putting them in ice water. This makes them easier to peel. It also helps if the eggs are at least a week old. Here's my mom's fail-safe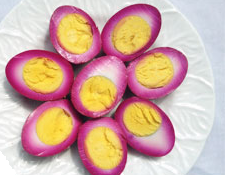 pickled egg recipe:
Julie's Mom's Pickled Eggs
1 doz. large eggs, hard-boiled and peeled
2 16 oz. jars pickled red beets in juice, drained and juice set aside
1 cup white sugar
1/2 cup white vinegar
1/4 cup water
Heat sugar, vinegar and water until sugar is dissolved. Add mixture into the pickled beet juice. Add hard boiled eggs.  Add beets on top to weigh down the eggs.
Mom says, "Most people don't pickle the eggs long enough. To get the red pickling juice to be absorbed all the way through to the yoke, it requires pickling for about 5 days."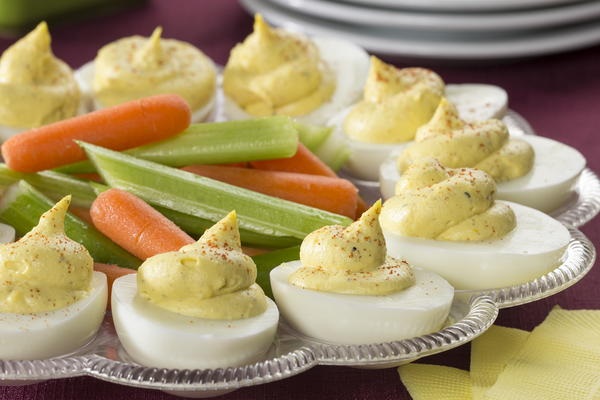 Mom's deviled egg tip: In addition to the standard mustard and mayo, a bit of sweet pickle relish adds a nice punch. For classic deviled eggs try this recipe for Grandma's Deviled Eggs. For some tasty alternatives to the traditional deviled egg, try a variation with Balsamic Deviled Eggs with Pancetta or Dill and Lemon Deviled Eggs.
Roxanne~
It's finally BBQ season and I am more than pumped! I just love hot dogs and cheeseburgers hot off the grill and wish I could enjoy them year-round. But besides the main course, I really can't get enough of the spread of side dishes at a cookout. While it's a really tough call, the side that I anticipate the most would have to be broccoli salad. I don't know if it's the broccoli or the bacon that makes me love it so much, (who am I kidding it's definitely the bacon!), but it's something I crave constantly.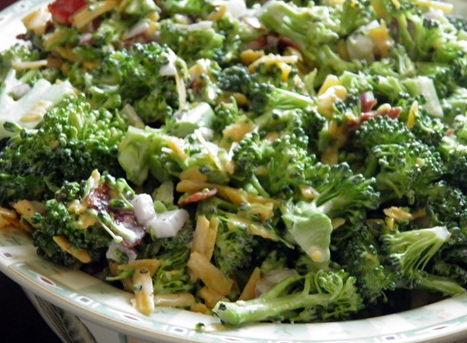 I must get it from my mom because at least once a month she buys a pint of it from the deli department of our grocery store.
I was lucky enough to have broccoli salad at a First Communion party last Saturday and on Mother's Day—two days in a row! Since I adore this salad so much, I thought it was about time to try to make it myself. I asked my aunt for her broccoli salad recipe, so here goes nothing!
Here are some tips my aunt clued me in on:
Prepare the broccoli salad at least two hours before serving for best flavor.
Soak the red onions in vinegar or water to get rid of the pungent burn that raw red onions have.
To lighten up the salad, use non-fat plain yogurt or Greek yogurt instead of mayo.
Chop the broccoli into smaller pieces in order to incorporate the dressing for best flavor.
If you're also a fan of Broccoli Salad, (because honestly, who isn't?), Mr. Food Test Kitchen's Broccoli and Cheese Salad is super yummy—just don't forget to add optional bacon!
Natalie~
Whenever there's a summer get-together or cookout, there's one dish I always look for right away. Potato salad. I just love it – it's the creamy, cool, flavorful side dish that goes perfectly with hot dogs or hamburgers! Store-bought potato salads are pretty good and there's always a few varieties to choose from.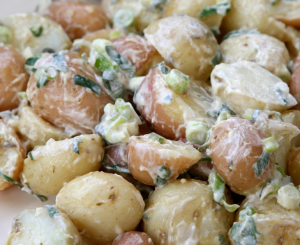 But you never know exactly how it will taste – that's why I always look forward to my aunt's homemade red potato salad. There's just something about red potatoes and her combination of ingredients that make it so good!
Rather than steal her delish recipe, I did some research and found a couple alternatives that I'm sure are just as tasty. This New Potato Salad uses Daisy Brand Sour Cream or you can go Pennsylvania Dutch with Amish Potato Salad. If you like to stick to classic potato salad, save yourself some time and pick up easy, already-diced Simply Potatoes – no mess, no fuss!
Wish me luck at attempting to make potato salad myself! 😀
Judy~
When my extended family gets together for summer celebrations at the beach, we love to sit back and relax and enjoy valuable time together.  Our gatherings always involve good food and drinks – especially grilled seafood and steaks, good wine and the occasional frozen cocktail 🙂
The decision as to what frozen concoction to make is always a big deal (in a fun way)—what frozen drink would most everyone enjoy?; is the mixture (minus the alcohol) something the kids will like?; is it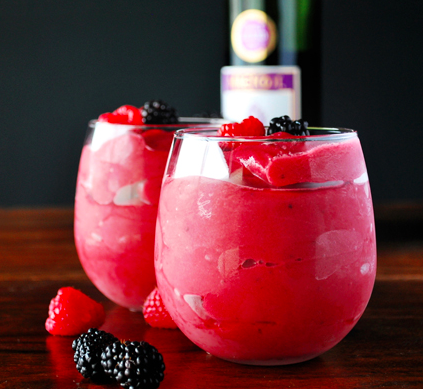 easy to pull together?; is it "pretty"?; etc. Last summer, my cousin came to the party with a pitcher of frozen sangria that really satisfied all of those "requirements" and much more!  She found the recipe on Pinterest – it is a frozen sangria that is made with Talenti sorbetto, mixed in a blender with dry red wine and lime juice.  Unbelievably simple.  Unbelievably delicious.  The presentation was definitely "pretty" (especially with the fresh fruit garnish on top). And the non-alcoholic version was a hit with the kids, too!
Can't wait to try this recipe on my own for family and guests over Memorial Weekend this year!
---
We hope you're feeling inspired! What favorite cookout recipe will you try? Let us know in the comments below!