The Easy Home Meals Team Shares Their Barbecue Staples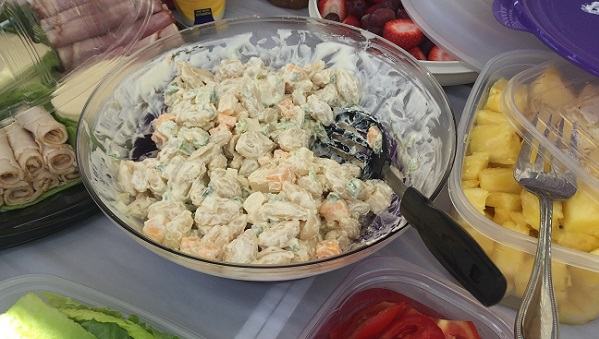 If you haven't already heard, May is National Barbecue Month and us ladies from the Easy Home Meals team are stoked for all of the yummy foods you can indulge in while soaking up the sun! From appetizers to dessert, we're thrilled to share our all-time favorite BBQ staples (besides typical hamburgers and hot dogs).
Julie:
I'm not sure how it happened, but when I moved into my neighborhood 12 years ago, there were five other boys very close in age to my son. And three of our families have connecting yards! Who needed a playground? The boys are all grown now – off to college or working jobs. But when they are all home for the summer, it's just like old times. A highlight is the neighborhood cookouts that we often have for the summer holidays. One of the neighbors (not me) is even a chef. Mmmm! Great chicken on the BBQ! Over the years, even the non-chefs have perfected their signature dish and are required to bring it to every get-together. I'm the queen of Spinach Dip.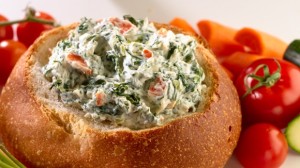 This is not a particularly unique dish, but it's easy to pull together after so many years. And everyone enjoys it! With my tried and true short cuts from the frozen and dairy aisles, preparation is a snap. I buy the Pictsweet frozen chopped spinach in a 10 oz. bag. It's just a little thing, but I find squeezing the water out of the spinach easier when it's in a bag. I've also used Philadelphia cream cheese in place of the mayonnaise for a different twist. And you can always substitute non-fat Greek yogurt for the sour cream if you like that flavor and want to lighten it up. The Knorr dip mix is my favorite, but there are many others that work just as well. Serve this in a bread bowl, with crackers or veggies.
Spinach Dip
1 16 oz. container Daisy Sour Cream
1 cup Kraft mayonnaise
1 envelope Knorr Vegetable recipe mix
1 10 oz. bag Pictsweet frozen chopped spinach, thawed and squeezed dry
1 8 oz. can chopped water chestnuts, drained
3 green onions, chopped
Blend all ingredients well and chill for 2 hours before serving.
Roxanne:
Can I just say how ecstatic I am that summer weather is FINALLY here! It felt like the winter season and the frigid temperatures would never go away. I'm loving soaking in the sun and of course, firing up the grill! I love all things food, but there's nothing like a potluck BBQ that makes this girl happier. Between the hot dogs and cheeseburgers, the dips and side dishes and I can't forget about the desserts, I just absolutely adore it all. The cold beverages that often accompany barbecues aren't so bad either 😉
One dish that has become a staple for our family to bring to get-togethers is taco dip. Tamela's Taco Dip, which is a recipe from a friend of a friend (I've never actually met this Tamela whom the dip is named after), is ridiculously delicious and is so easy to make! Even my oldest brother helped whip it together once (trust me, that's a HUGE accomplishment!) We always buy the tortilla chip scoops that make it a whole lot easier to "scoop" up some dip without breaking your chip.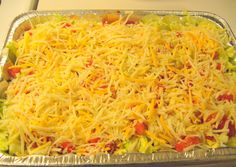 Tamela's Taco Dip
1 small can refried beans
1 jar medium salsa (or to your likeness of heat)
1 jar medium queso
16 oz. container Daisy Sour Cream
1 packet taco seasoning
1 16 oz. pkg. shredded Mexican cheese
For the first layer, spread the refried beans on the bottom of a 9″ x 13″ cake pan. Layer the queso on top of the refried beans. Next, layer the salsa on top of the queso. Mix together the taco seasoning with the sour cream; layer the mixture on top of the salsa. For the fifth and final layer, spread the shredded Mexican cheese on top.
If you want, you can also add an additional layer of shredded lettuce, or even other veggies like diced tomatoes, onions or olives. I think next time I may suggest to my mom to add a layer of guacamole 😉 Yum!
Natalie:
I could not be more ecstatic that the weather is hot and summer is just around the corner. This is such a busy time of the year – with graduation get-togethers, pool parties, outdoor celebrations and seasonal holidays all beginning to pop up. The beautiful weather and vacation days also makes May the perfect time for National Barbeque Month! With invites coming from all angles, the scramble is on to find the perfect dish to bring along to that weekend party or outdoor celebration.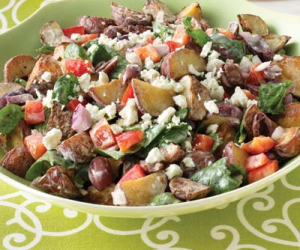 I don't know about you, but the first thing I save room on my plate for at a party is potato salad. Pulled pork, burgers and hot dogs are good and all, but the creamy combination of ingredients has always been my favorite. Recently I've discovered substituting mayonnaise for Greek yogurt to make potato salad a little healthier!
I'm all about trying new recipes, and this one from Land O'Lakes caught my eye: Greek-Style Roasted Potato Salad. How elegant and delicious does that sound?! This
recipe uses classic Greek ingredients like feta cheese, olive and Greek vinaigrette to give ordinary potato salad a tasteful spin.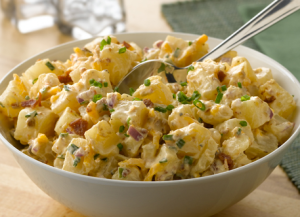 If Greek isn't your style but you're all about indulgence, this Cheddar Bacon Potato Salad from Crystal Farms is so creamy and flavorful! These are both on my long list of items to bring to my family's next summer BBQ!
Judy:
We love outside entertaining at this time of the year – the patio is newly set, landscaping is fresh and colorful, the weather is perfect (not too warm and not too cool) – and the grill is ready for barbecuing!
We have many favorite dishes for our outside events, including spicy chicken breasts with grilled vegetables, salmon with a delicious peach salsa, steak with a red wine and shallot butter, thick bone-in pork chops with grilled asparagus, marinated shrimp and vegetable kabobs…the list could go on and on (remember, I am the "seasoned" one of this blog team and have been entertaining for many years!).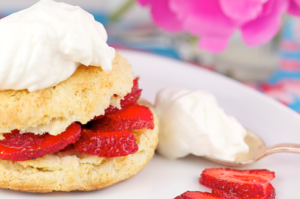 But while we have many favorite entrees, I have only one favorite dessert I like to serve at this time of the year – and that is Strawberry Shortcake.  It's a delicious treat that almost everyone enjoys, it is easy to make (and the "elements" can be prepared in advance), and it is a terrific presentation that goes nicely with a colorful, outdoor event theme.
There are many ways you can prepare a delicious Strawberry Shortcake dessert.  My recipe is easy and delicious, incorporating Pillsbury Grands! biscuits, Dole Sliced Frozen Strawberries and Cool Whip topping. Enjoy! 

Strawberry Shortcake Recipe
1 can (16.3 oz) Pillsbury Grands! Homestyle Biscuits
4 cups Dole Frozen Sliced Strawberries, thawed
1/3 cup sugar
2-3 cups Cool Whip Whipped Topping, thawed
Mix thawed strawberries in a bowl with 1/3 cup sugar. Bake biscuits according to package directions; cool and slice in half. Top each bottom half of biscuit with approximately ½ cup strawberry mixture and a dollop of whipped topping. Top with other half of biscuit and approximately 1/3 cup of whipped topping. Add small amount of strawberry mixture on top for presentation!
Lindsay:
As summer quickly approaches, the need for recipes at my house certainly increases. I love hosting cookouts and having friends and family over to entertain, but I get too comfortable with cooking the same old side dishes year after year. So, this summer I promised myself I would begin experimenting with new recipes for those fun cookouts.
My first challenge: find the perfect dish to make for my college graduation party. I have always loved different pasta salads and I am a huge fan of any and all cheeses, so I found a delicious recipe that combines the two!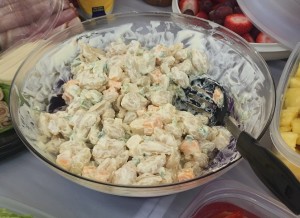 This Cheddar-Macaroni Salad is hands down my new favorite pasta salad and I got the recipe from my aunt! The best part is… you can make it in under 30 minutes!!
Karen's Cheddar-Macaroni Salad
3 cups medium shell macaroni
2 cups Kraft cubed cheddar cheese
1 cup chopped celery
1/2 cup chopped green pepper
1/4 cup chopped onion
1 cup Daisy sour cream
1 cup mayonnaise
1/4 c. milk
1 1/2 tsp. prepared mustard
4 tsp. vinegar
3/4 tsp. salt
In large pan cook macaroni in a large amount of boiling salted water until tender, drain, cool until room temperature. Toss with cheese, celery, green pepper and onion. Combine sour cream, salad dressing or mayonnaise, add milk, stir in relish, vinegar, mustard, salt. Toss with macaroni mixture. Cover and chill several hours.
Now that we've spilled on our barbecue and cookout staples, we want to hear from you. Let us know your favorite BBQ dish, dessert or appetizer in the comments below! Happy eating 🙂