Easy Home Meals Team Shares Their Game-Day Munchies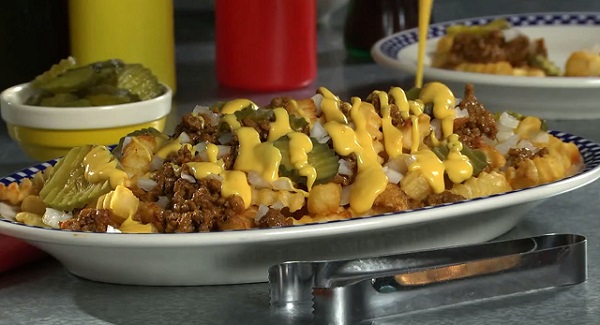 Are you ready for some football (snacks)?! With the football season upon us, the ladies from the Easy Home Meals team wanted to share our favorite game-day munchies!
~Julie:
In our house, the favorite seasons are football and basketball. Maybe because it's the best time to stay inside, curl up on the couch and enjoy some warm snacks (and cold beer.) You would think because of where we went to school, I would be a Steelers fan and my son a Browns fan. Or because of where our home is, the Eagles or Ravens could be possibilities as well. But no, we insist on defying logic. Go Packers! Go Falcons!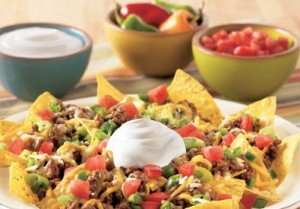 We often say, if we could only pick one snack food for the rest of our lives, it would be chips and salsa. But you know, everything is better "loaded." Whether you want to dress your nachos up with chicken, ground beef, black beans or jalapenos, just throw in a handful of Mexican cheese and a dollop of Daisy sour cream and let the snacking begin!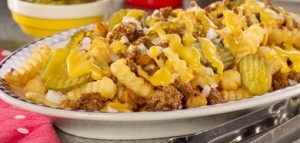 You know, sometimes it's game-all day, not just game-afternoon or game-night. So you need something a little hardier that's going to get you through the day without having to refresh the snacks a million times. These loaded Cheesy Burger Fries from our friends at the Mr. Food Test Kitchen, hit the spot. Seriously, it tastes just like a burger and fries you eat with a fork. And…it pairs really well with my cheese head! Let the games begin!
~Roxanne:
It's the most wonderful time of the year! Honestly, there's nothing better than being lounged in front of the TV for the entire day watching football. Whether I'm watching my favorite team on TV at home
(go Ravens!), going to a football party at a friends house or tailgating before the game, football, cold beer and game-day munchies go hand-in-hand.
One thing that I always crave when it's football season is buffalo chicken. There's nothing tastier than hot wings dipped in some cool ranch dressing with some celery and carrots on the side. These Tyson Buffalo Style Hot Wings® bone-in wings – Any'tizers® snacks are perfect on the grill, in the oven, or even in the microwave and they are ready in just minutes.
But, like any girl, sometimes wings get a little too messy for my liking. So that's where this Easy Buffalo Chicken Dip comes in. Buff. Chix Dip,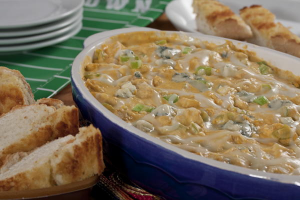 as some like to call it, is definitely a crowd-favorite and is usually gone before halftime. Thanks to a few dairy and frozen ingredients, it comes together in a cinch. I definitely do not miss boiling chicken breasts and shredding it into tiny pieces. The frozen cooked grilled chicken strips are a lifesaver. While I'm partial to Frank's Buffalo Wing Sauce, feel free to choose your own and experiment with the amount of sauce you use for the level of heat you're looking for. Also, sometimes I sprinkle some shredded cheddar cheese on top for even more cheesy flavor 😉 . Don't forget to pick up some Pepperidge Farm garlic bread, carrots, celery, crackers and tortilla chips for dipping!
~Natalie:
I'll be the first to admit, I'm not big sports fan. But I am a FOOD fan! If there's a party, call me up and I'll make your whole game day snacks spread. From finger foods to hot dips, salty to sweet treats, I'm all about making food that pleases every palate. I have a few go-to recipes that are simple to make and always disappear off the plate.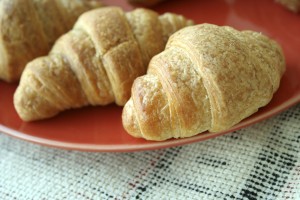 Cheesy Garlic Crescents is a recipe so easy, I wonder why didn't I think of it sooner? All you do is wrap mozzarella string cheese, such as Crystal Farms string cheese, inside Pillsbury crescent rolls, top with melted butter, garlic and a few other seasonings, and pop in the oven. You could even try different flavors of string cheese for an extra kick, like Pepper Jack! Dips are always a hit at game day get-togethers, and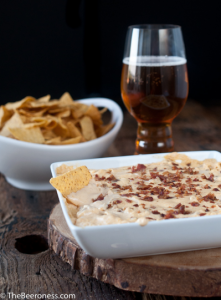 this one is no exception. Beer and Bacon Dip uses all kinds of cheese, and a recipe like this excites me because I can use my mini dip warmer. If you don't have one already, go out and buy one. I got mine at Wegmans for $10 and it's portable and keeps melty dips warm! #domesticlife
If I'm in a time crunch or have way too many other things on my "plate" ;), I hit up the grocery store for ready-made products that cut down on prep time like Athens fillo shells. You can put anything in these bad boys, throw them in the oven and voila, gourmet grab-and-go snacks! I like to combine cream cheese, bacon bits, chopped up jalapeños and shredded cheese – so melty and easy. Game day grub is always fun to make, and this season I'm in the kitchen ready to go!
Are you looking for a little more inspiration? Check out more ideas from the Mr. Food Test Kitchen!