Easter Traditions from Easy Home Meals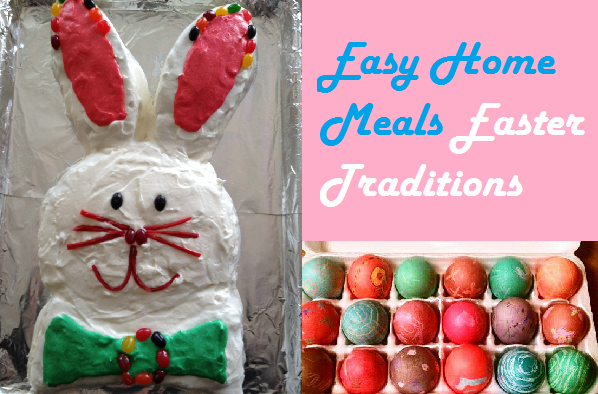 As we celebrate the Easter holiday tomorrow, we're all reminded of the importance of spending time with loved ones, making memories and especially, eating the delicious food! Whether it's gathering around the table for a family-favorite dish, or putting the finishing touches on a special dessert, food is an experience in which memories are made and traditions are carried out. As the Easter holiday approaches, the Easy Home Meals team wanted to share our own Easter traditions.
~Roxanne:
An Easter wouldn't be complete without eggs! Ever since I can remember it was my job to hard boil, dye and decorate the eggs for my whole family. My grandma, mom, brothers Luke and Justin and I each get our own special egg for Easter. For each of the eggs I dye them their favorite colors, write their names and draw a unique design that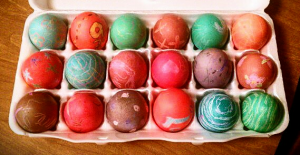 represents them. I also decorate eggs for our favorite sports teams (the Baltimore Ravens and Orioles of course!) and other fun designs that are reflective of our family. While many people get super creative with their eggs, like tye-dye or ombre, I use the traditional vinegar mixed with food coloring, plus crayons! The trick: first you decorate the eggs with crayons and then you dye them. While my egg decorating is nothing fancy, it's a fun family tradition that I will definitely pass onto my future kids.
In addition to our traditional Easter eggs, my mom and I will be attempting to make deviled eggs for the first time. (Wish us luck!) Have an "egg"-cellent Easter, everyone!
~Julie:
For each of the major holidays my mom and two aunts take turns hosting the family meal. They've tried to get my cousin and me to take over, but (un)fortunately I don't have the seating for that many people. Eventually the aunts will decide it's too much work for them to continue to cook for so many people. Either I'll have to buy a bigger house, or our sit-down family meal will have to change. Until then, we continue to enjoy traditional, gourmet family favorites like Special Chicken, Jello with Pieces and Ice Cream Dessert. Like our family get-togethers, the food doesn't have to have fancy names as long as it's good, familiar and comforting.
~Judy: 
An annual Easter tradition for our family is to bake our infamous Bunny Cake. Maybe to those of you who are extremely talented in the kitchen, the Bunny Cake isn't too impressive…but because I am not known to be the most creative of cooks, to our family, this is a masterpiece!
The tradition began the first Easter after our daughter was born (28 years ago), and we haven't missed a year yet. The bunny is made by baking the cake batter in two eight inch round pans – using one round as the bunny's face and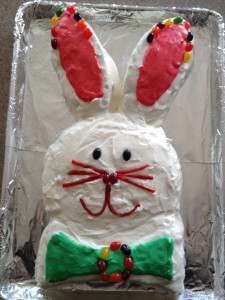 cutting the other round into three sections…creating two ears and a bow tie.  (no bunny cake mold for us!).
Our son was born in 1989 and also became an integral part of the tradition. I know both kids today would share many funny stories over the years of their involvement in making the cake…which ran the gamut from some years only placing jelly beans and licorice on the iced cake, to other years making the batter, icing and decorating the bunny in the styles and colors they preferred (and there have been some very interesting and less than perfect bunny cakes at the dessert table!) I am reminded that there was lots of laughter, and sometimes tears (when agreements couldn't be reached on the jelly bean color for eyes, or debates on who had more icing on their beater). Oh the memories!
It warms my heart to think back over the years. It may just be a silly cake to some – but to us, it's a great memory – and one that's very connected to family, and lots of love.  And isn't that what traditions are all about?!  Have a great Holiday!
What are your own Easter traditions? Share them in the comments below!