The Easy Home Meals Team Shares Their Thanksgiving Traditions
It's almost Turkey Day! The Easy Home Meals team is all about the Thanksgiving holiday and wanted to give you a glimpse into their own traditions and go-to Thanksgiving dishes.
~Julie:
Being that I'm not much of a cook/entertainer, I'm fortunate that each major holiday rotates between my aunts' houses. However, gone are the days of the host cooking an entire, elaborate meal all on her own. Over the years, each family member has found their food niche—a favorite dish that they're asked to bring to every holiday meal. For my Aunt Doris, it's the cranberry sauce (a.k.a. Jello with pieces.) For my mom, it's the deviled and/or pickled eggs. (I did grow up on a poultry farm, after all.) For my Aunt Sue, it's any kind of dessert—literally any kind. She's a fabulous baker. My cousin Kim brings the green bean casserole. And I am the sour cream potato casserole girl – which is fine with me because it's a cinch to put together. I'm sure you've had it at a potluck or picnic.
Sour Cream Potato Casserole
1 (30 oz.) pkg. frozen hash brown potatoes, thawed
2 cups shredded Cheddar cheese
1 (16 oz.) container sour cream
1 (10.75 oz.) can condensed cream of mushroom soup
1 onion, chopped
1 cup butter
3 cups crushed corn flakes
Preheat oven to 425 degrees F. In a large pot, combine cheese, sour cream, cream of mushroom soup, onion and ½ cup of butter until melted. Gently stir in potatoes. Pour into a lightly greased 9×13 baking dish. Crush cornflakes in a gallon Ziploc. Melt the remaining ½ cup of butter in the microwave and pour over the corn flakes and mix well. Spread corn flakes evenly over the casserole. Bake at 425 degrees F for 1 ¼ hours.
You can at least say this for my family, our celebrations are very traditional. My aunts have tried to get my cousin and me to take over, but alas my house is too small. And holidays just wouldn't be the same without our traditional hosts! 😉
~Roxanne:
Thanksgiving is all about the food, which is why it's obviously one of my favorite holidays! Between the turkey, mashed potatoes, stuffing, gravy, corn, ham and my favorite, green bean casserole—I just can't get enough! But what I love most about Thanksgiving is that it's a time to give thanks with one another and reflect on the year. Everyone puts down their phones and tablets, and we go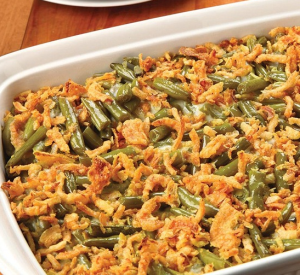 around the table and share what we're thankful for. To some that may sound cheesy, but to me it means the world and puts the "thanks" back into "Thanksgiving."
Now back to the food! Whether I'm spending Thanksgiving with my family, or spending it with my boyfriend and his family, Thanksgiving would not be complete without a huge mountain of mashed potatoes topped with corn and gravy on my plate (don't judge until you've tried it—it's amazing!) Of course a hefty helping of green bean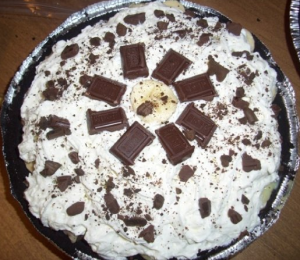 casserole is right beside it. Clearly Thanksgiving is not a day to count calories or stick to my diet.
For dessert, a slice of apple pie and pumpkin pie with a very large dollop of whipped cream on each will do. Of course, I'll have a sliver of my White Chocolate Banana Cream Pie (it's my traditional dessert that my family begs me to make every year.)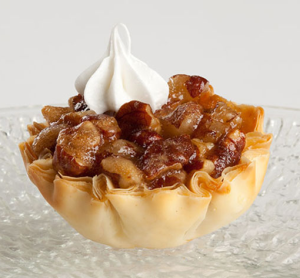 This weekend I'll be attending a "Friendsgiving" and I'm planning to bring green bean casserole (using frozen green beans of course) and test out some new desserts for my friends—Mini Phyllo Pecan Tarts and Individual Swirled Pumpkin Cheesecakes. I love working with phyllo shells from the frozen food aisle because of their versatility. And of course, anything that's pumpkin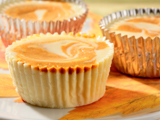 flavored is guaranteed to be incredible—the addition of coffee creamer is a definite bonus! Who knows, maybe they'll become my new traditional Thanksgiving desserts!
~Natalie:
New Year's, Halloween, Christmas… they're great holidays and all, but Thanksgiving is really where it's at.  It has always been my absolute favorite! The combination of getting together with family I don't see often, the amazingly satisfying feast, delectable desserts and obligatory "football throwing with the guys" (in the freezing cold, mind you) are what make Thanksgiving special to me. There's nothing I love more than getting up Thanksgiving morning, cooking or baking whatever contribution I have for the feast, hopping in the car with my boyfriend, Jake and hitting the road. I've always felt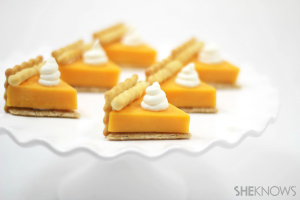 so grateful that my family is able to all get together on "Turkey Day", and spending quality time catching up with them is what I look forward to most.
Since I've been with Jake, my Thanksgiving traditions have changed a little. This will be our fourth one together, and we always celebrate with both of our families. Our tradition has become spending time with my extended family—aunts, uncles, second cousins and all – for lunch, then driving through the Pennsylvania back roads to Jake's family/childhood home for dinner. It's a lot of food, but boy is it worth the turkey coma!
Every year I contribute to both Thanksgiving meals, and I plan to hit the frozen and dairy aisles to make my food prep easy breezy! I'm obsessed with anything miniature, so I decided on these absolutely adorable mini cheese and cracker "pumpkin pies" for an appetizer for my side's get together. For dessert with Jake's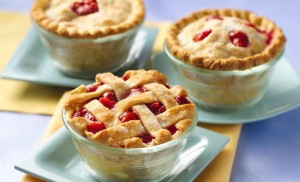 family, I couldn't resist these Strawberry-Rhubarb Mini Pies using ready-to-go refrigerated pie crusts. We all know this holiday is about more than impressing your family with mouthwatering munchies, so remember to take time to recognize what you are especially grateful for this year—and we won't judge if tasty treats are on that list!
~Judy:
In our home growing up, Thanksgiving Day was all about food, family, football and fun.  Those traditions continue today.
Growing up near the ocean, seafood was always an important part of our holidays.  And on Thanksgiving Day – it was the oyster. While the turkey was cooking, my father would be shucking oysters. 
We would then enjoy oysters on the half shell, served with lemon, horseradish, shallot vinegar and cocktail sauce, as an appetizer. And for the main event, we all looked forward to my Mom's Oyster Casserole (and continue to do so) more than any other side dish, dessert…or even the turkey! This is definitely a "family-secret" recipe that I rarely share.  Hope you enjoy.
Oyster Casserole Recipe
2 pints fresh oysters (save liquid)
1 ½ cups heavy cream
4 cups crushed saltine crackers
1 cup butter, melted
½ tsp. worstershire sauce
salt and pepper (just a tad)
Preheat oven to 350 degrees F. Drain oysters; save liquid (will need ½ cup). Combine cracker crumbs, melted butter, salt and pepper. In a greased casserole dish, layer: 1/3 of cracker mixture, 1/2 of oysters, 1/3 of cracker mixture and remaining 1/2 of oysters. Combine heavy cream, 1/2 cup oyster liquid and 1/2 tsp worstershire sauce – pour mixture over oysters. Top with remaining cracker mixture. Bake 350 degrees for 40 minutes.
What are your own Thanksgiving traditions? Do you host Thanksgiving at your house or do you bring a dish to share at a relatives' gathering? Share with us in the comments below! Happy Thanksgiving to you and your family!