DIY Wholesome Summertime Treats
Hello, everyone and happy summer! These hot days always make me crave one of my childhood favorite treats – ice cream! Even now as an adult and a dietitian I still enjoy a great ice cream on a hot summer day while keeping in mind good nutrition.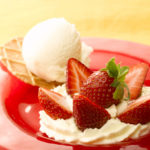 Life is all about balance and I think we all can enjoy a sweet treat every once in a while without feeling guilty. One of my favorite picks is Kemps Vanilla Frozen Yogurt, with no sugar added. Not only does it satisfy my sweet tooth with it's amazing flavor, but it's no added sugar – yay!
For everyone in your family looking for a refreshing summer time treat, try a Build-Your-Own Ice Cream Station. When it comes to the toppings, try adding some fresh fruit, nuts, or event dark chocolate chips in addition to your other favorites. As always, no matter what you're eating, always keep in my proper portions. Serve ice cream in smaller bowls or even smaller cones to help maintain a proper serving.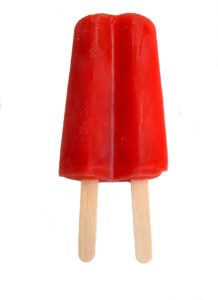 Another fun idea is to make ice cream & fruit popsicles. Simply add ice cream and layer some frozen berries in a popsicle mold. This is great for families who like all different fruits, they can simply add whatever fruit they like!
A new twist on a summertime treat is our Three Banana Nice Cream Sandwiches. Check out the video and the recipes for the three awesome flavors below!
1) Cherry Chocolate:
2 cups frozen cherries
1 banana
1/4 cup low fat milk
3 Tbsp. mini chocolate chips
2) Strawberry Banana:
2 cups frozen strawberries
2 bananas
3) Chocolate Peanut Butter:
2 bananas
2 Tbsp. cocoa powder
2 Tbsp. creamy peanut butter
3 Tbsp. mini chocolate chips
Directions:
Place all ingredients in a food processor or blender. Blend until well-combined. Place in the freezer until ice cream consistency. Eat by itself or make "Nice Cream" Sandwiches with a whole grain cookie or biscuit!
Amy is a Supermarket Registered Dietitian for Coborn's, a grocery retailer in central Minnesota. She loves her job as an in-store dietitian because every day she's able to work with their guests to educate them on how to shop for food products that meet their nutritional needs. Every individual is different, which is why it's important to work with them on their food preference, nutritional needs, as well as with their lifestyle. Amy's goal as a dietitian is to inspire people to have a well-balanced diet while still enjoying their food. She wants all of her clients and guests to have a positive relationship with food and enjoy their mealtimes.
She provides grocery store tours, nutrition counseling, meal planning assistance, as well as provides nutrition education to community groups, organizations and schools. She truly loves her job and the different communities that she's able to work with. For more information, check out their website at www.coborns.com/dietitians-corner.
St. Cloud, Minnesota-based Coborn's, Inc. is an employee-owned grocery retailer with 8,000 employees and 54 stores across Minnesota, North Dakota, South Dakota, Iowa, Illinois and Wisconsin under the Coborn's, Cash Wise Foods, Marketplace Foods and Save-A-Lot banners. Coborn's, Inc. also owns CobornsDelivers, an online grocery ordering and home delivery service; and stand-alone convenience, liquor, video and pharmacy locations. To support its 120 retail locations, Coborn's, Inc. operates its own central bakery, dry cleaning facility and grocery distribution center. For more information, visit www.cobornsinc.com. 
Coburns, Inc. is a member of the National Frozen and Refrigerated Foods Association.