Dishing on our Summer Ice Cream Favorites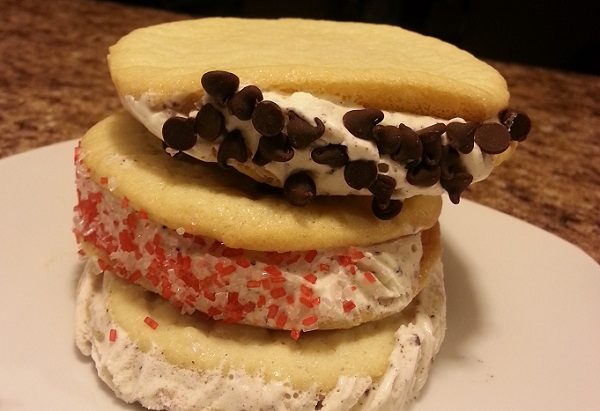 Ice cream is one of those desserts that's delicious all year round, but even more satisfying during the dog days of summer – whether you're having a block party, sitting by the pool, hanging out with friends or for an after-dinner dessert. Everyone has a favorite ice cream flavor or ice cream indulgence, from good 'ol scoopable ice cream to popsicles to new popular trends like frozen yogurt and gelato. There's even more reason to celebrate – July is Ice Cream Month, so the Easy Home Meals team dished on our summer favorites!
~ Julie
Maybe it's because I have a teenager in the house, but we always have some kind of ice cream in the freezer—(that's my story, and I'm sticking to it!) My son prefers all the great ice cream novelties like ice cream sandwiches, nutty buddy cones and Snickers ice cream bars. I'm definitely a vanilla kind of girl. Oh, I like a scoop – or two – of Cookies & Cream or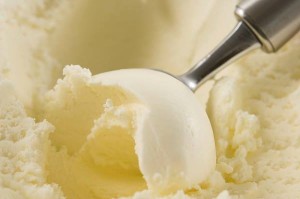 Mint Chocolate Chip from time to time, but I always fall back on vanilla. I think that's why my mom's "Ice Cream Dessert" is one of my faves. (We're very creative with recipe names in our family;)) The flavor is just a shade off of vanilla—it has that great sweet and salty combination and it's easy to make. Does it get any better than that?!
60 Ritz crackers, crushed
1 stick butter, melted
½ gallon vanilla ice cream, softened
1 cup cold milk
2 packages (3.4 oz. each) instant coconut pudding mix
1 container (8 oz.) Cool Whip, thawed
Combine cracker crumbs and butter. Reserve ¼ cup. Press remaining crackers into an ungreased 13 in. x 9 in. dish. In a large bowl, combine the ice cream, milk and pudding mix until blended. Spread over the crust. Top with whipped topping. Sprinkle reserved crackers over top. Cover and freeze for 2 hours. Remove from freezer 15-30 minutes before serving.
I like this best when it's a little thawed so the flavors blend better. And if you don't like coconut, any flavor of pudding would work just as well. I hope you love this cool treat as much as I do!
~ Rox
Nothing screams summer quite like cool and refreshing ice cream. But in my house, half gallons of various flavors of ice cream and ice cream novelties (especially Klondike bars) are always stocked in our freezer year-round. My one brother literally eats a large bowl of ice cream every night (I wish I had his metabolism!) While I don't eat it every day, I do enjoy a bowl of chocolate or mint chocolate chip ice cream every once in awhile.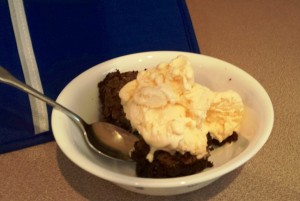 One ice cream dessert that I can never say no to: brownies and ice cream. Luscious warm and fudge-y brownies with a couple scoops of vanilla ice cream—my mouth is watering just thinking about it! All you have to do is whip up brownies from a box mix (or save time by picking up ready-to-bake brownies from the dairy aisle) and enjoy warm with your favorite flavor of ice cream. Growing up, my brothers and I would even request brownies and ice cream instead of a cake for our birthdays. Have I mentioned how much I love brownies and ice cream?! 😉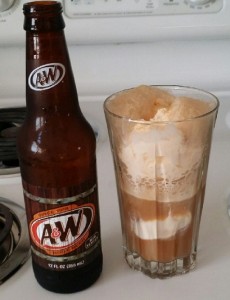 Another ice cream treat that I just adore during the summer: root beer floats. Root beer is definitely one of my favorite sodas, and pairing it with a couple scoops of vanilla ice cream makes it that much better! While there's no real right way to make a float, I tend to do a scoop of ice cream, a 1/4 cup soda, then another scoop of ice cream, then some more soda and finish with a big scoop.
Happy Ice Cream Month!
~ Natalie
Who doesn't love a cool treat during the hot days of summer? I wouldn't say I'm an ice cream fanatic, but every once in a while I do enjoy a delectable ice cream treat. Hand-scooped and on a cone is how I prefer it, but if I'm craving and all my favorite ice cream shops are closed, I'll make a sweet dessert creation at home.  I always like to try new things and modify recipes, so the latest I tried is ice cream sandwiches.
I'm not big on chocolate, so instead of the typical chocolate chip cookie or chocolate outside, I used sugar cookies as the "shell."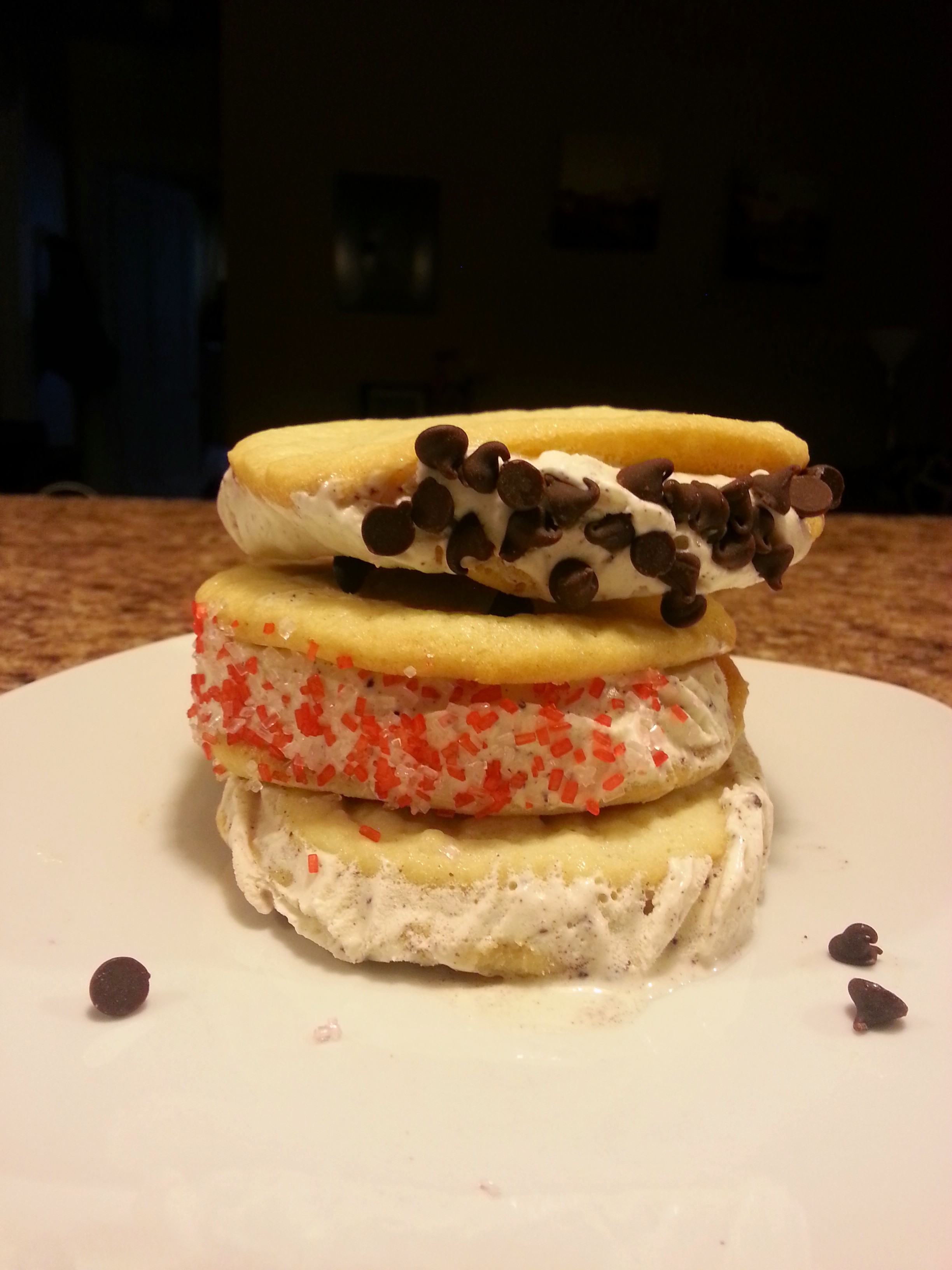 To save on time, I chose Pillsbury refrigerated sugar cookie dough – all I had to do was cut the dough into slices and bake! No messy mixing bowl and sticky fingers. I also picked up ice cream from the store, choosing Cookies & Cream to get away from the plain-Jane vanilla. Once the cookies cooled, I plopped a scoop of ice cream onto a cookie and gently pressed down. I had to be super speedy in the process – my non-air conditioned apartment and quickly melting ice cream did not jive very well with each other! Once I had the "sandwich," I rolled the edges in a variety of toppings – sprinkles, peanut butter baking chips, mini chocolate chips, anything you can think of! You could also leave them plain, without toppings.
Lastly, I wrapped the sandwiches individually in plastic wrap and put in the freezer to set (very important). After a few hours, the treats were ready to enjoy! Even as just a once-in-awhile ice cream connoisseur, these were delish!!! Pick your favorite cookie and combine with your desired ice cream flavor and toppings to try your own ice cream sandwich creation today!
~ Judy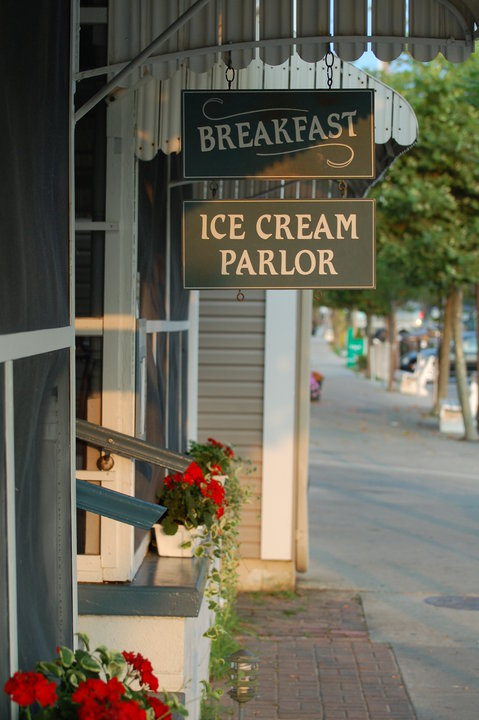 Summertime, ice cream and the beach are definitely synonymous for me growing up in Rehoboth Beach, DE. Two of our favorite ice cream spots on the boardwalk were—and continue to be—Kohr Brothers (frozen custard) and The Royal Treat (hand-dipped). There's nothing like a soft vanilla cone dipped in chocolate jimmies, or a double-dip of chocolate peanut butter!
The sweetest memories though were the days my grandparents made the hand-churned, homemade ice cream—it was quite a family production! And the icing on the cake (or in this case, ice cream): my grandmother's homemade hot fudge topping!
Our days of making homemade ice cream are now few and far between, but thank goodness there are excellent ice cream and frozen yogurt selections in the freezer aisles of our grocery stores. We still bring the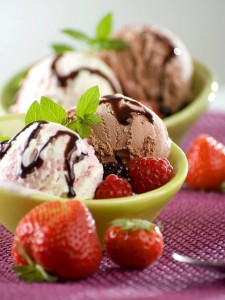 summertime family memories into the experience by making that delicious hot fudge topping for our store-bought ice cream.  Here is the recipe…I hope you enjoy it as much as we do!
Hot Fudge Topping
2/3 cup sugar
1 cup PET evaporated milk
½ tsp. vanilla
2 – 8 oz. boxes Bakers semisweet chocolate squares
1 tbsp. butter
Put all ingredients into a saucepan and bring to a slow boil, stirring often. Continue to cook and stir until mixture thickens – approximately 10-15 minutes. Serves 10.
Now that you've read our most enjoyed summer ice cream selections, we'd like to hear yours. Tell us what flavors you crave most, toppings you find tastiest or whether you prefer a cone, bowl or the whole container! (We're not judging 😉 )