Conquering Busy Weeknight Dinners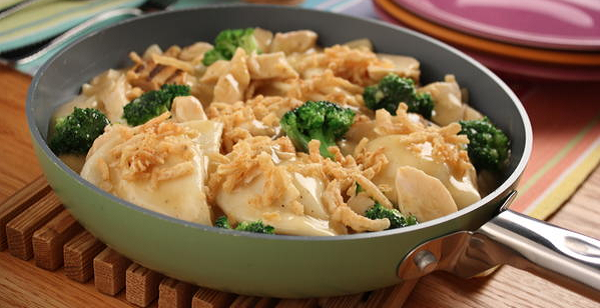 We all have places to be and things to do during the busy back-to-school season. Making time for family meals is important, too. As a Together Counts™ partner, we recognize that 20 minutes at the dinner table as a family can make a big impact on establishing healthy eating habits for your children. While our schedules are ever changing, preparing family dinner doesn't have to be another dreaded item on your to-do list. Knowing how to navigate your grocer's freezer aisle will help you get a budget-friendly, balanced meal together in no time.

Here are a few tips for making quick, quality dinners that help you spend less time in the kitchen and give you more time with your family:
A few frozen essentials make convenient meals easy to assemble. Keep your freezer stocked with frozen veggies, tortellini, sweet potato fries and whole wheat dinner rolls. Having simple, fast side dishes on-hand to pair with your main entrée cuts down on prep time. These items are also economical because you can use only what you need and put the rest back in the freezer.
One-dish meals are quick to prepare, and you won't spend time doing a lot of clean-up. A kid-friendly dish like Broccoli Pierogi Skillet can come together easily with a few frozen ingredients, and there's only one pan to wash.
Don't forget about using your slow-cooker. If you take the time to throw a few ingredients together in the morning, you'll have a complete, hot meal when you get home. Slow Cooker Brunswick Stew uses the convenience of frozen veggies for even less prep time. Picked at the peak of ripeness and frozen to lock in their nutrients, frozen fruits and vegetables are always readily available during any season.
Include your whole family in meal preparation. Having everyone participate makes the meal more personal, no matter what you're serving. Start by choosing age-appropriate tasks for each family member, for example, teenagers can help with measuring ingredients and chopping while younger children can set the table.
One night a week, try going meatless with an easy to prepare pasta dish. Did you know that frozen lasagna is made just like you would make it at home, but is more economical and saves at least an hour of prep time? This behind-the-scenes look at the Nestle test kitchen shows just how the pasta and sauce for their famous lasagna is made.
Even during hectic weeknights, you can still have quality family-time around the dinner table without spending hours preparing the meal. With the versatility of frozen foods, you don't have to sacrifice quality or nutrition for convenience. All you need is a freezer stocked with the right ingredients and products for quick, delicious, family-pleasing dishes!
What are your go-to dinners to enjoy with your family during the hectic week? Share with us in the comments below!
---
The National Frozen & Refrigerated Foods Association is a proud partner of the Healthy Weight Commitment Foundation and Together Counts. This post originally appeared on the Together Counts blog.