Christmas Cookie Extravaganza
As if we didn't already have Christmas cookies on the brain now that it's December, today is also National Cookie Day! To us, it doesn't get much better (or tastier) than  cookies hot out of the oven served with a glass of milk or egg nog. Whether you bake them for yourself, give them as gifts or exchange them with friends/family/coworkers, 'tis the season for cookies! While Christmas cookies actually date back to Medieval Europe, it wasn't until the early 1900s that cookies were even introduced in America[1].
Nabisco introduced Animal Crackers in 1902 as a seasonal item and its brightly colored boxes were promoted as Christmas tree ornaments (that's what the string was for). So animal crackers began as edible ornaments – who knew?! However, German gingerbread (lebkuchen) was actually the first cookie associated with Christmas[1].
Before we share some of our favorite cookie recipes that are perfect for the Christmas season, here are a few helpful cookie baking tips[2]:
– Over-mixing can cause cookie dough to harden.
– Never place raw cookie dough on a hot cookie sheet. If using the same cookie sheets for several batches, always allow them to cool between uses.
– Place hot baking pans on a cooling rack to allow air to circulate completely around pans.
– If cooled cookies stick to a cookie sheet, return the pan to a warm oven for about 1 minute, then immediately remove the cookies with a spatula.
Check out our favorite cookies made from ready-to-bake cookie dough + from scratch cookie recipes: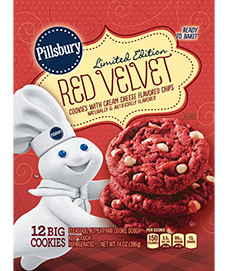 Did your favorite Christmas cookie make the list?
For more cookie recipes and other desserts, visit www.EasyHomeMeals.com!
[1] http://www.best-ever-cookie-collection.com/cookie-trivia.html
[2] https://www.mrfood.com/Kitchen-Basics-Tricks/20-Tips-for-Making-and-Baking-Great-Cookies