Celebrate Nature's Egg-cellence for National Egg Day!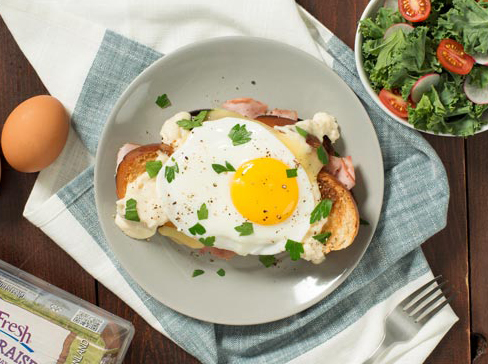 June 3 marks National Egg Day! The egg may seem like a humble ingredient or simply a breakfast staple, but eggs are truly incredible for a number of reasons. Not only are they so versatile that you can eat them all day long in a number of ways, but they are nutritious and affordable, too. Here is a list of reasons to love the incredible, edible egg as well as some recipes to incorporate eggs into all of your spring and summer celebrations.
Egg-cellent Facts
Eggs are a nutritional powerhouse. They are a good source of high quality and complete protein as well as iron, Vitamin B12 and Vitamin D. They provide all of these nutrients while being low in carbohydrates and free from sugar.
Eggs come in their own environmentally friendly packaging. Their shell is biodegradable, compostable, and can be used in a variety of ways around the house and garden.
Eggs serve a number of important functional uses in cooking such as binding, emulsification, coagulation and adhesion, which affect texture and consistency.
The egg provides all of these benefits while being a natural, single ingredient product.
Food Storage and Preparation Tips
As the weather warms up, dining al fresco is the perfect way to enjoy your favorite seasonal foods. Here are some tips for storing, handling and preparing eggs.
Eggshells are porous, so they take on odors and flavors. Avoid storing them next to other items that have strong smells.
If you need hard-boiled eggs for a snack or recipe, older eggs are usually easier to peel than fresher eggs.
Always wash hands, utensils, and work areas with hot, soapy water before and after using raw eggs.
Don't leave eggs unrefrigerated for more than 2 hours.
Serve cooked eggs or dishes containing eggs immediately after cooking. Cool and refrigerate leftovers within 2 hours. Use leftovers within 3 to 4 days.
Recipes to Fuel your Fun
Here are some delicious recipes to enjoy the versatile, affordable, nutritious egg!
Pull-apart morsels of pillowy biscuit dough are baked with crisp bacon, a blend of Italian cheese and softly set scrambled eggs, making this Bacon, Egg, and Cheese Monkey Bread the perfect centerpiece for a bridal brunch or baby shower.
Classic Croque Madame can make even a lazy weekend morning in pajamas feel special. Topped with a creamy Béchamel sauce and a fried egg, this French ham and cheese sandwich is simple decadence at its best.
Quick to prepare with a light, fresh flavor and a little spicy heat, Rigatoni with Pecorino, Grated Egg and Lemon is the perfect dish for warm summer evenings when just a salad won't do.
What're your favorite ways to eat eggs? Share with us on social media @EasyHomeMeals!
About NestFresh Eggs
NestFresh is a producer of humane, sustainable eggs. We partner with family farmers across the country to produce Free Range Organic, Cage Free, and Pasture Raised Eggs as well as the first Non-GMO Project Verified Eggs.  We believe in producing eggs with a conscience because when companies do the right thing, everyone from hens to humans benefit.  Our delicious eggs are available in shell, liquid, and hard cooked varieties. Visit us at www.nestfresh.com for more information about our farms, our products, and where you can find our eggs in your area.
NestFresh Eggs is a member of the National Frozen & Refrigerated Foods Association.