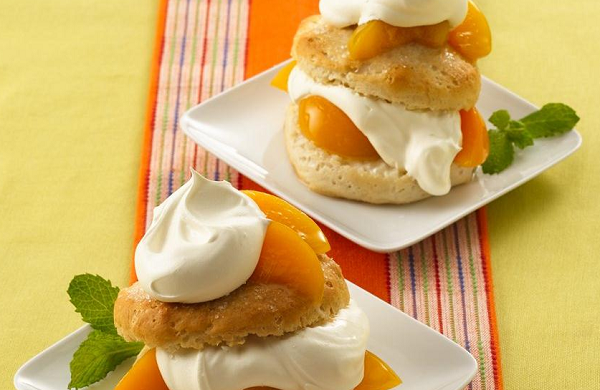 Getting together with friends and family this summer? Head to the bar – the food bar, that is! Grab your favorite, basic food item (baked potatoes, waffles, tortilla chips, etc.) and create a culinary bar fit to please any foodie. For summertime, since baby showers, brunches and picnics are in full swing, one of the best food bars to create in your own backyard is a BISCUIT BAR. That's right – we mean those comforting, warm, flaky Sunday morning specialties that can be easily whipped up in a flash, with help from pre-made frozen and refrigerated biscuits.
If you're thinking, "What's so special about biscuits," you'll love to learn that they are one of the most versatile and customizable foods out there! Wander outside of your typical biscuit lines, and taste-test some of these unique biscuit styles :
Buttermilk: A cross between pie crust and puff pastry, these are perfect as a decadent topping for casserole or pot pie
Drop: Soft texture makes these a perfect sponge for sausage gravy or strawberry shortcake
Cream: These take on the simplest, tried-and-true biscuit formula, flour + baking powder + salt + sugar + heavy cream
Angel: With a springy, bread-like bite, these are a great choice for hearty breakfast sandwiches
Skillet: Steamy and space-efficient, these are cooked close together in a cast iron skillet on the stovetop
No matter the type of biscuit you decide to use in your bar, remember to stock up on a full range of toppings and filling options. Whether you host a biscuit brunch or sweet biscuit bar, we've got some of the best combinations for you to recreate.
Savory Biscuits
Brunch Biscuits
Sweet Biscuits
Try: Lemon Blueberry Monkey Bread

Whether for breakfast or dessert, this fruity take on monkey bread will be a crowd favorite!

Try: Easy Peach Shortcakes

Make one delectable dessert with whipped cream or ice cream—you can also swap out the peaches for another favorite fruit such as raspberries or even pomegranates.

Try: Strawberry Shortcake Kabobs

Turn the classic dessert into a fun and unique sweet treat with the addition of kabob sticks and mini biscuits.
How will you deck out your biscuit bar? Sweet fruit glazes, ham & cheese, sausage gravy or classic jam?
---
[1] http://www.seriouseats.com/2014/07/serious-eats-guide-to-biscuits.html