Bring on the Cheese for National Cheeseburger Day!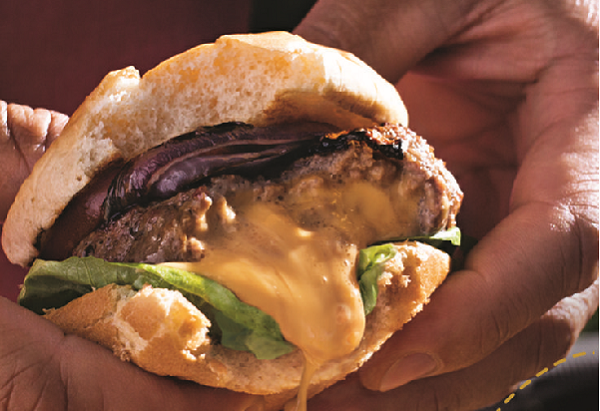 If you didn't already know, Americans love a good burger, so much in fact that 95 percent admit to eating burgers monthly[1]! This translates to 50 billion burgers consumed each year in America which means three burgers a week for every single person[2]! No matter how many burgers one may eat weekly, monthly or yearly, today is the day to get your hands on some meat, but don't forget the cheese because it's National Cheeseburger Day!
From double-stacks, big macs and sliders, adding a slice of cheese amps up any burger to another taste level. American cheese reigns supreme with 73 percent of people choosing it as their favorite, followed by cheddar (66 percent) and Swiss (55 percent)[1]. It's no secret that cheese and burgers are the perfect pair, but what type of cheese makes the best cheeseburger? Here are three cheesy elements to help satisfy your cheese craving and build the best burger ever:

Melt-ability: Get the perfect melt to showcase the flavor of the meat and add a textural quality to the sandwich; Kraft American Singles are superior in its melt-ability factor, but for a classier cheese, try Gruyère, Brie or fontina.
Tanginess: Looking for a touch of tang and sharpness, balance the savory meat with aged cheddar, Monterey Jack or aged provolone cheese; for additional tang and sweetness, try Monterey Jack cheese with roasted red peppers atop your meat patty.
Funk Factor: Go for the funkiest of all cheeses and choose blue for bold and intense flavor that tastes especially good with red meat; melt blue cheese crumbles on top of your burger or go wild and place the cheese within the burger so the cheese is a surprise center!
Now that the hardest decision has been made, it's time to choose the style of burger that best fits your palette. Top choices for specialty burgers include: Philly style, Cajun, Southwest, Cuban, Hawaiian and Asian.2 From sautéed, caramelized onions, green chile salsa or a slice of pineapple, all burgers are centered on a specific flavor note, but we must admit, any one of these burger styles would go great with a slice (or two!) of cheese! To prove our point, here are some of the best cheeseburger versions we could find: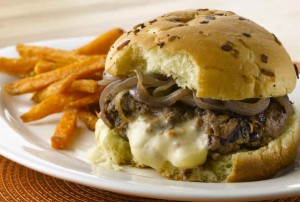 For other unique toppings to make your cheeseburgers really sizzle, try:
Buffalo sauce
BBQ sauce (pair it with bacon, onion rings and cheddar cheese for a scrumptious rodeo burger)
Guacamole
Salsa (the salsa can range in heat levels from mild to extra spicy depending on your adventurous spirit)
Chili
Pineapple slices (add bacon and you have yourself a makeshift Hawaiian burger)
Greek yogurt
How do you take your cheeseburger—classic cheddar, scrumptious Swiss, mouthwatering Monterey Jack or pleasant provolone? Tell us in the comments below and don't forget to celebrate National Cheeseburger Day!