Back-to-School Triggers Meal-Time Memories
With the kids heading back to school, we can't help but reminisce about when we were all in school (many years ago)… The Easy Home Meals team shares their own back-to-school memories and go-to breakfasts and snacks!
~Julie:
Once I was old enough to be self-sufficient, I was home alone after school (much younger than would be considered appropriate by today's standards). My parents were working at the chicken houses. Mind you, they were right down the road—only a cornfield away, but these were the days before cell phones and 24/7 connectivity. Oh, and my older brother of six years—a teenager at the time—was around …somewhere.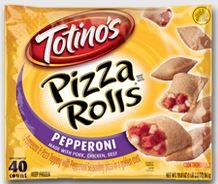 In any case, after-school snacks had to be easy to prepare and basically microwaveable (we did have those back then.) Enter Totino's Pizza Rolls! The perfect pop-able snack, and very tasty too. Although they weren't yet branded Totino's, this is one snack that has truly stood the test of time. My son has eaten his fair share of pizza rolls too.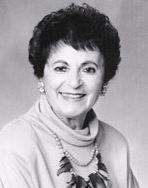 Now that I'm in the food industry, it's a pleasure to know that Rose Totino, founder of Totino's pizza, was the first woman inducted into the Frozen Food Hall of Fame in 1993. I imagine she is a woman who has influenced a lot of homes through a lot of school days, just like the two generations of homes in my life.
~Roxanne:
Back when I was in school the mornings were always hectic for me as I definitely was not a morning person (some things never change!). So, if I actually had time to eat breakfast before catching the school bus, it was usually a bowl of cereal with lots of milk. I actually miss that because nowadays I feel like I never drink enough milk and the only time I have cereal is on the weekends or maybe as the occasional midnight snack. I absolutely love cereal and milk and I'll admit my favorite part is sipping up the leftover milk at the end 😉
While I typically bought lunch every single day in elementary, middle and high school, I made sure to always drink chocolate milk. Even when we had more options in middle and high school, chocolate milk was my go-to. I don't drink nearly as much chocolate milk nowadays, but when I do it reminds me of being a kid!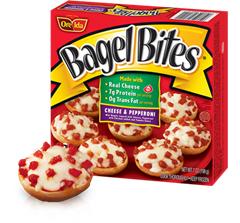 When it came to after-school snacks, my freezer and microwave were my best friends. Bagel Bites were a must-have every afternoon—just pop a few in the microwave and boom—PIZZA! As I got older and more mature, I was allowed to bake them in the oven to make them extra crispy and delicious.
So, now that I'm older and am constantly browsing yummy recipes and meal ideas as part of my job, I'm looking forward to when I have my own family one day. Between the frozen food and dairy aisles, I know I'll be able to have delicious, nutritious and creative breakfasts and snacks for my kids without spending hours in the kitchen!
~Natalie:
Back in middle and high school, I was on my own during the early mornings before school. My dad started work before I even got up, and my mom worked late so she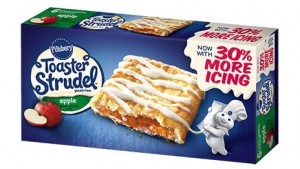 slept later. That meant I was flying solo for breakfast, and easy and convenient was the name of the game. One of my favorites was Toaster Strudels from Pillsbury. They had so many flavors and the creamy icing for the top was delicious!
Every once in a while or on the weekends, my mom would treat Dad and I to French toast. Her's is the BEST! Moms have that special touch that sets her meals above the rest. She's also the best at making classic scrambled eggs, bacon and toast – her eggs are perfection! (unlike my dad's – but I'll give him credit for trying 😉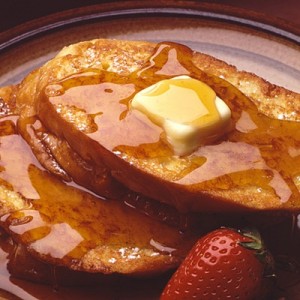 Now that my boyfriend and I are living on our own, breakfast doesn't make itself, which is fine because I love being in the kitchen. Jake's not a "breakfast food person" he says (weirdo), but he does love my omelets! Our fridge is always stocked with Eggland's Best eggs, which I combine with tomatoes, onions, peppers and whatever shredded cheese we have on hand for the perfect melty omelet. I could eat breakfast all day long, but there's just something about those breakfast favorites and a cup of coffee in the morning before work – or school, for those of you sending your kids off this week!
~Judy:
I am not a morning person. So when my children were school-aged and getting up early (particularly for those junior and senior high years) – they were not the only ones challenged with getting up on time, getting ready, getting fed and being pleasant in the morning before school.
We gave up on the being pleasant part during the teenage years 🙂 …and the kids actually would have preferred to give up on getting fed.  But I knew having them eat something nutritional before (or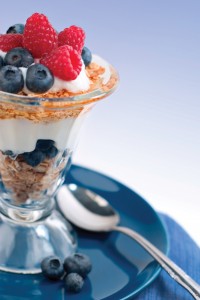 during) leaving the house was important.  I had a few favorites I turned to that seemed to make everyone happy.
One was a yogurt parfait…just layer low-fat (or greek) vanilla yogurt, granola and berries (blueberries, blackberries and/or strawberries) frozen or fresh. It's a great way to make yogurt (and breakfast overall) a little more special.  And it's delicious!
Another favorite was waffles and fruit…just toast whole grain frozen waffles and top with syrup and fruit.  Quick and tasty for sure!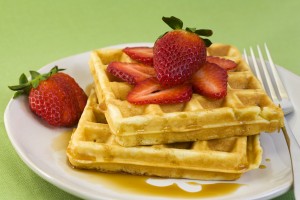 If there was absolutely no time for eating as they ran out the door for school – I always had toasted whole grain waffles with peanut butter ready for the morning bus or car ride.
Today, with our kids out of school and out of the house, my husband and I enjoy the variety of breakfast sandwiches in the frozen food aisle.  They are quick and easy to fix, a great source of protein in the morning, and I love the portion control.  No doubt – these would have been on our morning menu before school "back in the days" (talk about convenient, tasty and nutritious!).
Wishing all of our young families with school children a happy and healthy year ahead (with lots of good food)!