All-American Cheesy Creations for Grilled Cheese Month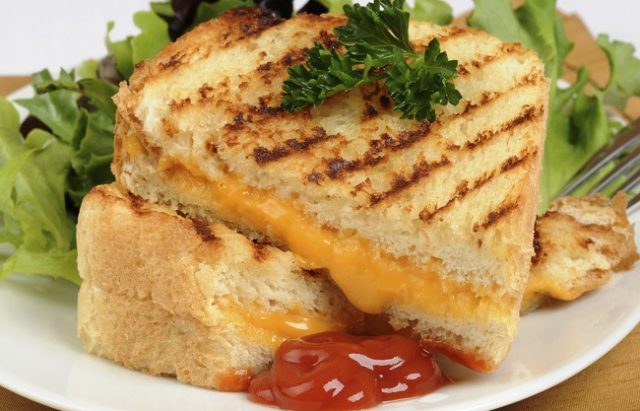 A childhood favorite. Mom approved. An all-American food. The classic ooey-gooey sandwich. What do all of these have in common? The answer is, they describe a grilled cheese sandwich. Perfect for fulfilling that need for a quick and easy lunch or end-of-a-long-day comfort food.
And what better timing to eat one than to celebrate on National Grilled Cheese Sandwich Day on April 12! If one day wasn't enough, this fan favorite gives you 30 days to chow down on a cheesy deliciousness meal.
The average grilled cheese sandwich consists of three ingredients that are bound to be stocked in anyone's kitchen: bread, butter and cheese. But, why not amp up these essentials and transform the ordinary into something extraordinary!
Here is how you can add flare and create some grilled cheese greatness:
What Holds it All Together: Good-quality bakery style bread is what makes the best sandwiches even better; the texture is key. Add bacon bits or a chive flavored sour cream for an extra boost of flavor.
The Cheese Stands Alone: It's your time to shine cheese, it is literally the center of attention. Select your favorite cheese to make those bread slices melt together: spicy pepper jack cheese, tangy provolone, sharp cheddar jack, sweet jarlsburg or the standard American cheese.
Make it Toasty: Nothing is worse than burnt toast. Coat the bread with a layer of butter to ensure a crispy, golden color or try a panini press!
Explore your options and create a unique twist on a classic family favorite—warning this is not for your ordinary grilled cheese eaters:
Nothing goes together quite like a gooey grilled cheese sandwich and warm tomato soup! Try these unique versions of this dynamic duo: Tomato Bisque with Whole Wheat Grilled Cheese Croutons or Grilled Cheese & Tomato Soup Bake.
Now, start your cheese exploration and see how many inventive concoctions you can create throughout National Grilled Cheese Month. Share your best creations in the comments below!