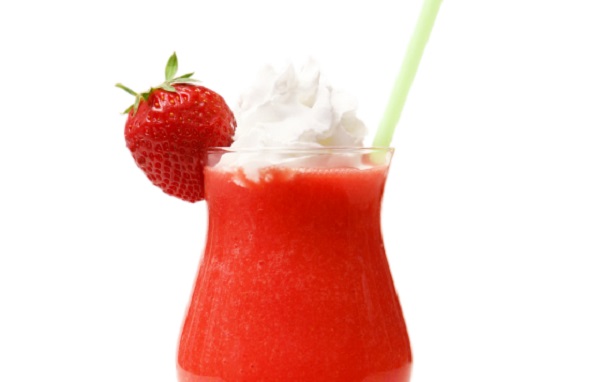 It's hard to beat enjoying a refreshing drink on a hot summer day. As the end of summer nears, the Easy Home Meals team ladies wanted to share their favorite summer beverages, cocktails and concoctions. 
~Julie:
Not surprisingly, summer is flying by. It just seems to go faster and faster the older you get. I'm already feeling anxious that maybe I haven't taken full advantage of the sunny days and warm nights. The easy fix to put my mind at ease…drinks with friends by the pool! And nothing says summer like fruity drinks.
What better way to combine my beloved wine with the ambiance of summer than a sparkling sangria! Whether you like red or white, these refreshing drinks are perfect for summer entertaining—or floating in the pool by yourself.
White Grape & Peach Sangria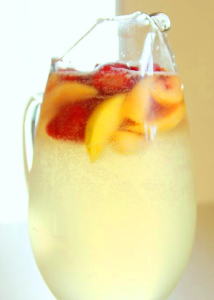 Mix all ingredients except club soda and chill for at least one hour. Mix in club soda before serving.
Berry Cherry Sangria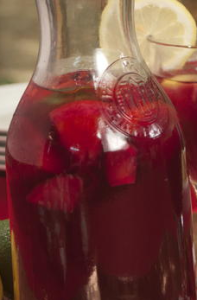 1 bottle of Cabernet Sauvignon
¼ cup sugar
½ cup triple sec
½ cup brandy
2 cups of club soda
Sliced oranges for garnish
Mix all ingredients except club soda and chill for at least one hour. Mix in club soda before serving.
~Roxanne:
I'm a sucker for frozen drinks during the summer. And I especially can't resist a tasty frozen strawberry daiquiri.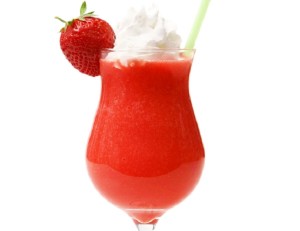 This is usually my go-to at the bar before I switch to beer and it's a special treat to blend up at home. Instead of buying the ready-made mix, we finally figured out a homemade concoction using frozen strawberries!
Frozen Strawberry Daiquiri
1 1/2 oz. white rum
1/2 oz. water
6 – 7 tsp. sugar
2 tsp. lime juice
1/2 cup ice
Whipped cream topping (optional)
In a blender mix strawberries, water, rum, sugar and lime juice. Mix in pulses until strawberries are broken down, then blend on high for one minute. For a "brighter" flavor add 2 oz. of rum and an additional tablespoon of lime juice; blend with ice. Obviously you don't have to, but I always top my daiquiris with a dollop of whipped cream 🙂
Besides frozen drinks, I have always been a root beer float lover.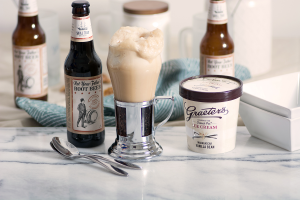 This past year I discovered Not Your Father's Root Beer hard root beer and it dawned on me, "why not make a root beer float using this?" Let me tell you, it's life-changing (well if you like root beer) All you need is vanilla ice cream and a bottle of NYFRB and you're all set. I'm planning on pairing Graeter's Madagascar Vanilla Bean Ice Cream with NYFRB on Saturday for National Root Beer Float Day! Enjoy 😀
~Natalie:
There's nothing I love more in the summer than a refreshing drink when it's blazing hot outside. Home-brewed iced tea with lemon is my go-to non-alcoholic drink, and I make sure to always have a pitcher at the ready in the fridge. When I'm looking to relax and enjoy something for "adults only," margaritas are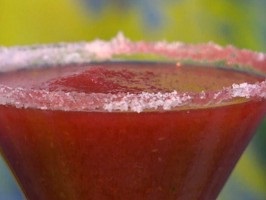 where it's at! There are so many varieties and ways to make them, but frozen is the way to go in the summertime. This Raspberry Lemon Margarita is so sweet and tasty, it's cool enough to make sitting outside worth it. Raspberry happens to be my favorite fruit, but you can swap out any frozen fruit to satisfy your flavor preference – like mango or strawberry.
I didn't think it could get better than fruity frozen margs BUT there is such a thing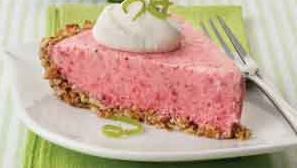 as Frozen Strawberry Margarita Pie. My two favorite things align – margaritas and baking! As a toast to the dog days of summer, I'm putting these recipes on my must-make ASAP list 🙂
---
Now that we've shared our go-to summer concoctions, we want to hear from you! Share your drinks and any recipes you have in the comments below. Cheers!