7 Ways to Customize Meals using Frozen Rice
If loving rice is wrong, we don't want to be right. Rice is a cereal grain and has fed more people over a longer period of time than any other crop. As far back as 2500 B.C., rice has been accounted in history as a source of food and plays an important role in many traditions. Rice is able to be grown in many parts of the world, even in the desert conditions of Saudi Arabia. In fact, it's now grown on all continents except Antarctica[1]. With September being National Rice Month, we thought it'd be the perfect chance to share our top ways to use frozen rice!
Did you know these facts about rice? Neither did we[2]!
– Rice is a good source of complex carbohydrates—it provides your body and brain with the fuel each needs to function.
– Rice contains more than 15 vitamins and minerals, as well as beneficial antioxidants.
– Research shows that eating rice makes you feel fuller longer, which could aide in weight management.
– Rice is the least allergenic grain, making it a healthier option for those with gluten and other food sensitivities.
– Rice is sodium and cholesterol free, and when served plain it's 100 calories per serving.
– Brown rice is a source of whole grains, which can help reduce the risk of heart disease, diabetes and certain cancers. Rice eaters have a lower risk of high blood pressure.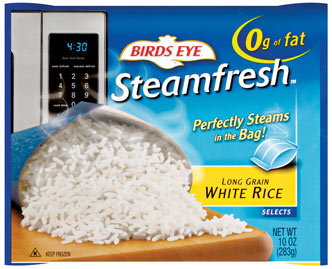 There's a variety of rice in the frozen food section, including:
Here are our top seven ways to create a meal using frozen rice:
1. Soups & Stews

2. Stir-Fries
3. Underneath the main course

4. Casseroles
5. Salads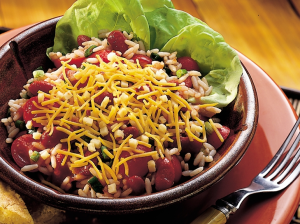 6. Pilafs
7. Bowls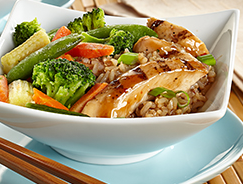 Bonus: Rice Pudding
What's your favorite way to eat rice? Let us know in the comments below and be sure to stock up on your favorite frozen rice!
---
[1] http://www-plb.ucdavis.edu/labs/rost/Rice/introduction/intro.html
[2] http://thinkrice.com/all-about-u-s-rice/facts-about-rice/